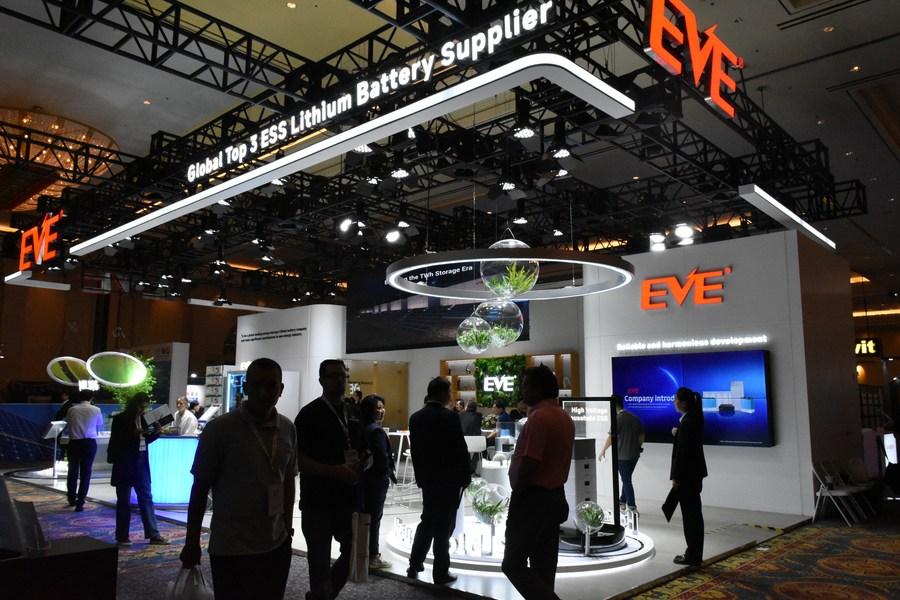 People visit the RE+ 2023 exhibition in Las Vegas, the United States, on Sept. 14, 2023. [Photo/Xinhua]
North America's leading clean energy expo concluded in Las Vegas, U.S. state of Nevada, on Thursday, focusing on the latest products, technologies and solutions in clean energy sectors.
The four-day expo, "RE+ 2023," drew over 30,000 attendees and more than 1,300 exhibitors around the globe.
Over 300 Chinese companies participated in the expo, ranging from solar, energy storage, hydrogen, to EV infrastructure, microgrids, wind and more.
Chinese exhibitors always bring the latest technology to North America's leading clean energy expo, the expo's organizer told Xinhua.
The goal of the expo is to bring the clean energy industry together and really highlight how all aspects of renewable energy can work together to create a cleaner future, said the organizer.
A series of education and tech sessions were held on the sidelines of the expo, offering a platform for the technical and scientific communities to share innovative research in the solar, storage, and smart energy industries, and focus on advancements in the pre-commercialization to adoption phases.
"RE+ is a platform for our company to show our latest products. We took this opportunity to bond with our customers in North America and reach more from across the world during the expo," said Hou Xinnan, marketing manager of Sinexcel, a Chinese company. The company is a professional manufacturer and solution provider of bi-directional storage inverter and pre-engineered energy storage system.
"We come to RE+ to direct contact with equipment manufactures and talked with some Chinese companies that are the leading force in the solar industry," said Jose Eduardo Delgado, an engineer from Honduras' Tecknos Solar, who carefully inquired about several types of products in the exhibition area of Sinexel.
"Many of our company's devices, including solar panels, are made in China," added Delgado, noting that he is very satisfied with the quality of Chinese products.