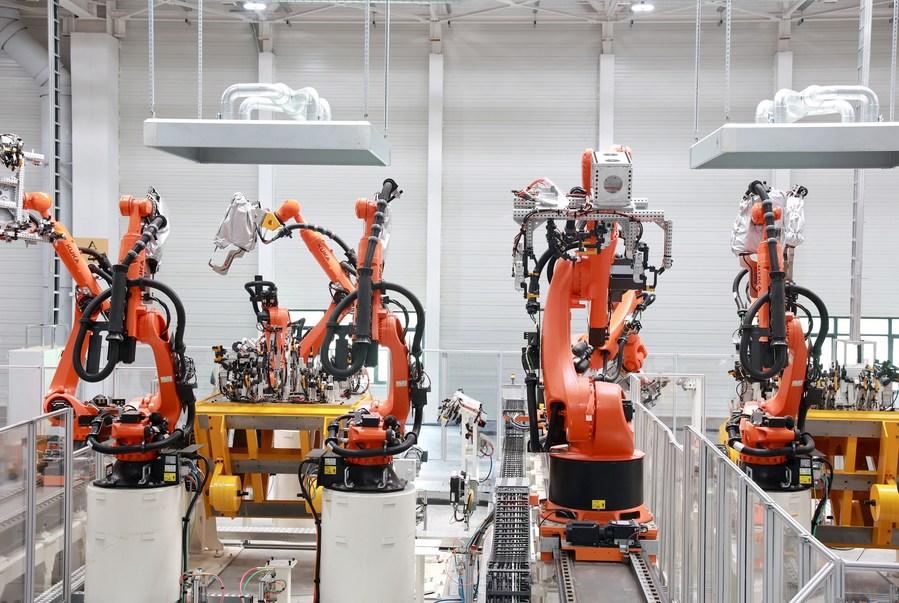 This photo taken on July 4, 2022 shows a workshop of the Volkswagen Anhui MEB (Modular Electric Drive Matrix) plant under construction in east China's Anhui Province. [Photo/Xinhua]
Top executives of foreign automakers have voiced their long-term commitment to the Chinese vehicle market, which — as one of the country's economic pillars — is cruising at a high single-digit growth rate.
Auto manufacturers in China delivered 2.27 million passenger vehicles in August, up 6.9 percent year-on-year, said the China Association of Automobile Manufacturers.
Deliveries during the month brought total vehicle sales in the first eight months to 15.64 million units, up 6.7 percent from the same period last year, said the CAAM.
Volkswagen AG, as the world's No 2 automaker and the bestselling foreign vehicle brand in China, has a clear focus on the country, said Oliver Blume, chairman of the company's board of management.
"We are successful in China. We are the biggest international carmaker in China. We have a long tradition in China. We have our partners with a strong commitment," Blume said.
He said China is not only the world's largest auto market, but also a pacesetter in terms of technology.
"China shows what will happen in the next 10 years around the world, and that's a big opportunity. We believe in it. We have worked out ... a China strategy for Volkswagen Group, which outlined our commitment to develop 'in China, for China' for Chinese customers," Blume added.
In July, the German automaker partnered with Chinese electric vehicle startup Xpeng to develop two models for the Chinese market, which will enrich the portfolio of Volkswagen's own EVs.
The models, which will be available exclusively in China, will begin appearing in showrooms in 2026.They will bear the Volkswagen marque but feature Xpeng's expertise in software and autonomous driving.
In addition to its deal with Xpeng, Volkswagen has also signed a memorandum of understanding with Chinese partner SAIC to speed up collaboration on Audi's electric vehicle development, with the Audi brand being part of the Volkswagen Group.
Volkswagen said joint development with SAIC will swiftly and efficiently extend its portfolio of smart EVs on offer in the premium segment.
"We are producing people's cars. But people's cars in the future will be different from those in the past. Therefore, we will combine our experience, our knowledge with new technologies being developed in China," Blume said.
Chen Shihua, deputy secretary-general of the China Association of Automobile Manufacturers, said China has been leading the smart EV sector.
The Ministry of Industry and Information Technology said first-half passenger vehicle sales in China with driving-assist functionality exceeded 2.88 million units, accounting for 32.4 percent of the total.
Chen said such "futuristic" features will soon become a must for new vehicles.
He also expects overall sales this year, based on available figures, to eclipse 2022's nationwide total, thanks to a series of favorable policies the government has put in place.
Ola Kaellenius, chairman of the board of management of Mercedes-Benz Group AG, said the world is experiencing a more challenging economic environment, but companies should adopt a long-term attitude.
"We have a very clear strategy: we will continue to invest in China... It is the largest car market in the world. It is our biggest market.
"But that should not distract us from thinking long-term: for the long term, Mercedes-Benz believes in China," Kaellenius said.
Stephan von Schuckmann, a member of the board of management of German auto parts supplier ZF Group, said, "For ZF, China has become home to global technologies and functionalities, and a global innovation hub."
ZF has nearly 50 production sites, four R&D centers and nearly 240 after-sales service outlets in more than 20 cities across China, with over 20,000 employees in the country.
In the first half, the company's sales in the Asia-Pacific region, mainly in China, reached 5.276 billion euros ($5.693 billion), an increase of 16 percent year-on-year.