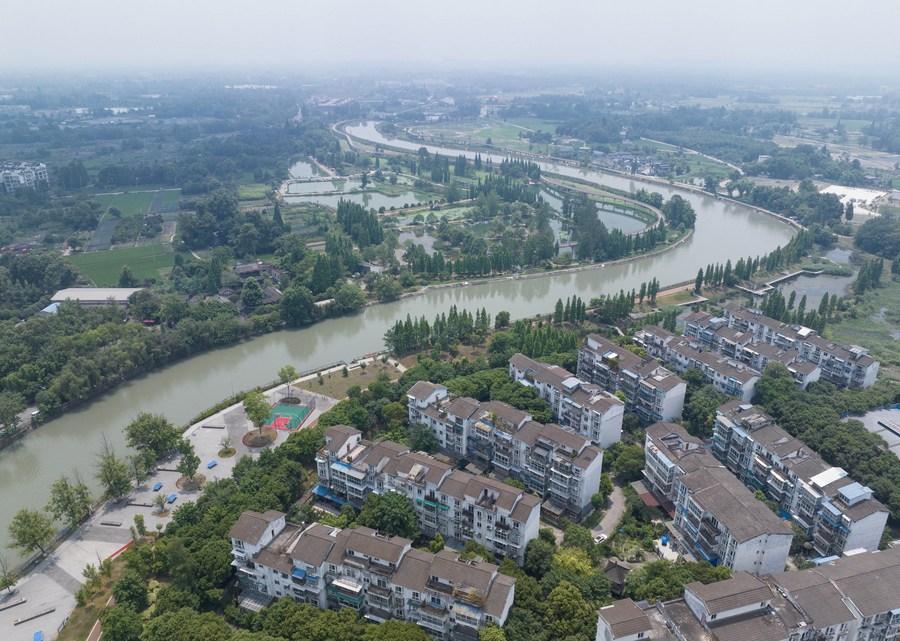 This aerial photo taken on June 23, 2023 shows residential buildings along the Xuyan River, a tributary of Jinjiang River, in Chengdu, capital of southwest China's Sichuan Province. [Photo/Xinhua]
Most Chinese cities reported a month-on-month fall in home prices in August, while fewer cities saw month-on-month price increases, official data showed Friday.
Last month, 17 out of 70 large and medium-sized cities reported month-on-month increases in new home prices, down from 20 in July, according to the National Bureau of Statistics (NBS).
In comparison with levels a month earlier, new home prices in four first-tier cities -- Beijing, Shanghai, Guangzhou and Shenzhen -- edged down 0.2 percent month on month in August.
In 31 second-tier cities, prices of new homes went down 0.2 percent compared with July, while new housing prices in 35 third-tier cities went down 0.4 percent, with the extent of the drop widening a notch from July's 0.3-percent decrease.
Compared with August last year, new home prices in first-tier cities and second-tier cities increased by 0.6 percent and 0.3 percent, respectively, but prices of new homes in third-tier cities decreased by 1.4 percent.
Home prices in the second-hand market saw a year-on-year decline in August. Resale home prices in first and second-tier cities both fell at a faster pace, down 1.6 percent and 3 percent, respectively, from a year ago. Those in third-tier cities dropped 3.5 percent, the NBS data revealed.
China unveiled a raft of measures in late August to promote the sound development of the property sector. These included cutting interest rates on existing mortgages for first-home loans and easing mortgage rules.