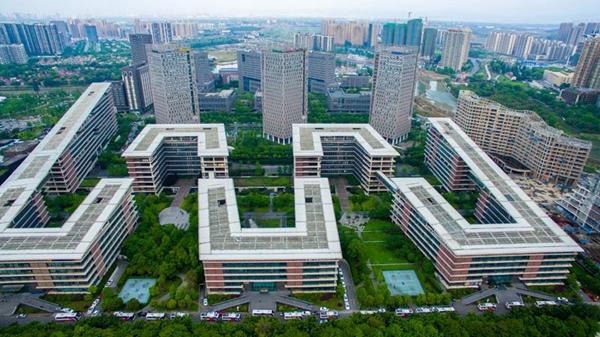 The Tianfu Software Park in Chengdu, Sichuan province. [photo provided to China.org.cn]
The Tianfu Software Park (TSP) in Chengdu, Sichuan province, was assessed recently as excellent in a joint re-evaluation by the Ministry of Commerce, Office of the Central Cyberspace Affairs Commission and the Ministry of Industry and Information Technology.
It ranked second among the first batch of 12 national export bases of digital services, which was recognized by these ministries in 2020.
The TSP was the only software park located in the west of China among the 12 national export bases of digital services, including the Zhongguancun Software Park of Beijing and Pudong Software Park of Shanghai.
The TSP has focused on information technology services, digital content services, offshore services outsourcing since 2020 to advance the construction of its digital services system featuring networked factors, complete industry chain and good business environment.
In the re-evaluation of the 12 bases, a total of four bases were rated as excellent.
The TSP has gathered many Fortune 500 and well-known domestic and foreign enterprises including IBM, SAP, EMC, Alibaba and Tencent, and has become a highland for the development of domestic software and information service industry.
In recent years, the park has attracted a number star enterprises in digital service export, digital games and digital education. Thanks to their new products and services, companies in the park have expanded their international market to more than 80 countries and regions.
In the first half of this year, nearly 70 high-quality digital service enterprises settled in the TSP, and the park won the title of "annual most dynamic software park" by the China Software Industry Association.
The TSP has continued to increase its capacity as a carrier for digital economy, industry and trade. It is committed to forming a one-park-multipoint spatial layout by building some branches and centers in Chengdu.
It will further integrate industrial resources, enhance business environment, promote industrial innovation, form a pro-innovation environment, and take multiple measures to further accelerate the development of digital trade through expanding platform and advancing connection.