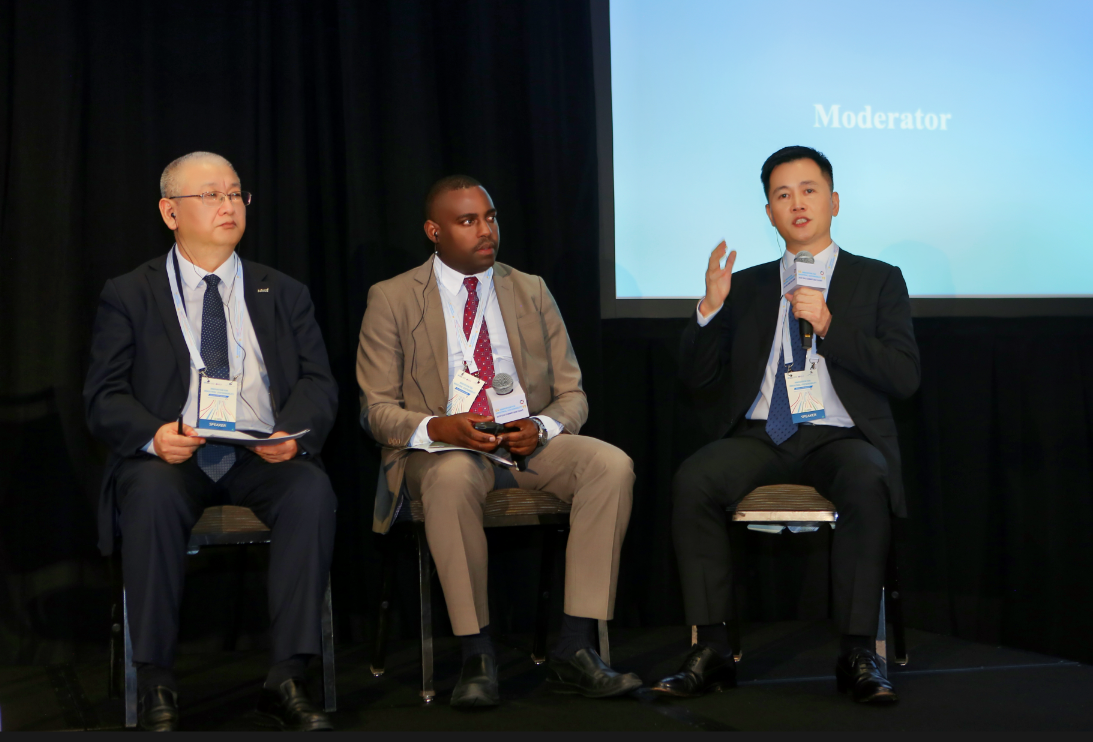 Wu Yonghua (R) attending United Nations Sustainable Development Goals Summit panel discussion. [Photo provided to China.org.cn]

The 2nd United Nations Sustainable Development Goals (SDG) Summit is being held at the United Nations Headquarters in New York, which is the highest-level UN summit in the field of sustainable development.
ANTA Group, leader of the Chinese sportswear industry, signed the Business in Action—Sustainable Industrial Development Commitments at the summit.
ANTA Group's sustainable development case was selected for the SDG Good Practice Database. ANTA Group Executive Director and Co-CEO Wu Yonghua attended the official thematic side event Innovation for Industrial Sustainability 2023, sharing ANTA Group's strategy, achievements, and insights for ESG. At the summit, Wu also met with United Nations Under Secretary-General Li Junhua.
Chinese companies that signed the initiative are committed to high-quality development, the 2030 Agenda for Sustainable Development, and ten sustainability principles. These include integrating SDGs into business strategies, daily operations and organizational culture; encouraging the development, promotion, and dissemination of environmentally friendly technology and innovation; reducing greenhouse gas emissions and significantly increasing the share of renewable energy consumption; strengthening life-cycle management of chemicals and wastes; and eliminating inequality within the organization to promote inclusive development. This initiative was proposed by Action for Sustainable Businesses in China, which invited representatives from Chinese businesses to sign the initiative in support of the United Nations 2030 Agenda for Sustainable Development and showcased the Chinese business community's commitment to international responsibility.
In the panel discussion of the themed forum "Businesses Respond to Triple Planetary Crisis", Wu Yonghua noted that sustainable development strategy is one of ANTA Group's core strategies. The Group has a clear strategic goal of achieving carbon neutrality by 2050 and is promoting the implementation of the "1+3+5" sustainable development roadmap within the organization. ANTA Group's sustainable development practice is carried out around "3 cores" and "1 high": "3 cores" refers to the objectives of developing low-carbon products, building a green supply chain and conserving biodiversity, as well as social responsibility; "1 high" refers to promoting sustainable development through joining international organizations such as the United Nations Global Compact and supporting their sustainable development initiatives.
ANTA Group has established a complete ESG strategic implementation system. The board of directors has created a Sustainable Development Committee, who formulates ESG strategies, goals, and bodies; mobilizes resources; monitors performance, and fosters culture, forming a closed loop for ESG management. From 2015 to 2022, ANTA Group achieved a revenue growth of nearly 400% while reducing greenhouse gas emissions intensity by over 40% per hundred million yuan of revenue and reducing water use by 22%. Additionally, the group's self-operated factories have completely phased out coal use and are transitioning towards clean energy at full speed. According to Standard & Poor's Global Corporate Sustainability Assessment (CSA), ANTA Group's score is higher than 87% of 160 global companies in textiles, clothing, and luxury businesses.
While reducing its environmental footprint, ANTA Group is also upgrading its green supply chain management system, working with core suppliers to manage carbon emissions and promote clean and renewable energy. Wu Yonghua said, "Driving our suppliers to practice sustainable development is the top priority in our work. We will build an environment-friendly, healthy, safe, and efficient supply chain through three measures: improving admission standards, carrying out ESG audits and empowering suppliers."
He revealed that since 2022, ANTA Group has organized over 60 ESG-related training sessions and workshops, empowering over 90% of its suppliers to improve their social responsibility and environmental data management capabilities. In addition, 50% of the group's strategic suppliers have adopted clean energy from photovoltaic panels. "Our goal is to achieve global leadership in sustainability management for ANTA Group's supply chain by 2030, with a 2.5% annual water reduction and a 5.5% annual carbon reduction for core suppliers."
Wu said, " ANTA Group has a consumer base of over 200 million people globally. We believe that as long as we persist, we will definitely achieve the goal of carbon neutrality by 2050, making our planet greener, more beautiful, and better."
The event offered industry leaders a platform to cultivate public-private partnerships, exchange best practices, and discuss innovative and emerging opportunities to contribute to industrial sustainability, amid a broader accelerated push to achieve the 2030 Agenda and its SDGs.