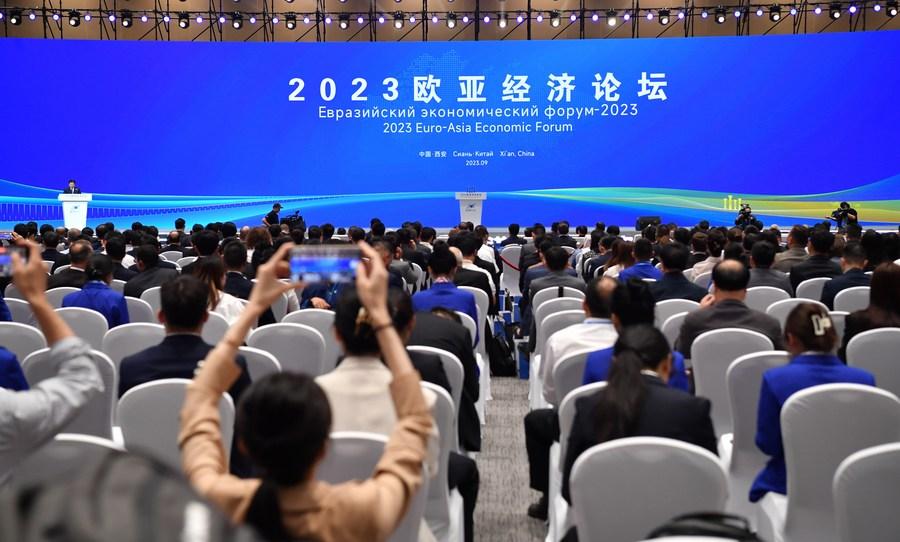 This photo taken on Sept. 22, 2023 shows a scene at the 2023 Euro-Asia Economic Forum in Xi'an, capital of northwest China's Shaanxi Province. [Photo/Xinhua]
Braving wind and sun, camel caravans trekked along the ancient Silk Road, taking silk and tea from China to Central Asia and Europe more than 1,000 years ago. Now, clean energy products are delivered to Belt and Road countries via freight trains and flights, turning wind and sunshine into treasure.

While green development is becoming a global consensus, more and more Chinese enterprises have become strong forces in building a green Belt and Road.
This year marks the 10th anniversary of the Belt and Road Initiative (BRI).
At the 2023 Euro-Asia Economic Forum, Nikolay Pomoshchnikov, head of the subregional office for North and Central Asia of the Economic and Social Commission for Asia and the Pacific of the United Nations, said that Central Asia has huge potential for renewable energy including solar energy, wind energy and hydropower and the forum provides a very good opportunity for cooperation with China and these countries.
The three-day forum concluded on Sunday in Xi'an, the capital of northwest China's Shaanxi Province.
Xi'an, also the starting point of the ancient Silk Road, has witnessed green development through trade exchanges between China and BRI partners.
In late April this year, the city launched the first China-Europe freight train for the export of new energy vehicles (NEVs). Data from the China Association of Automobile Manufacturers show that from January to August 2023, China exported 727,000 NEVs, a 1.1-fold year-on-year increase.
Last month, a train loaded with photovoltaic (PV) modules left Xi'an for Tashkent, Uzbekistan. These modules will serve a 1-gigawatt PV project in Uzbekistan, which will produce 2.4 billion kWh of clean energy annually, helping cut carbon emissions by up to 2.4 million tonnes.
Li Wenxue, Party chief of the solar technology giant LONGi Green Energy Technology Co., Ltd., said that the company has provided one-third of the key equipment for the PV projects in five Central Asian countries, while the number of China-Europe freight trains used for the company's PV module exports has exceeded 100, with destination countries including the Netherlands, Germany and Belgium.
Adil Ahmed, from Pakistan, has felt the thriving clean energy development in his hometown. Ahmed, an exhibitor attending the economic and trade expo held on the sidelines of the forum in Xi'an, said Pakistan has abundant solar energy resources, which are suitable for developing solar power.
"I have installed PV panels on my roof," said the 65-year-old, adding that many of the panels were produced in China.
China has signed a memorandum of understanding (MoU) with the United Nations Environment Programme on building a green Belt and Road, established the Belt and Road Energy Partnership with 32 countries, and trained 3,000 people from more than 120 countries under the Green Silk Road Envoys Program.
Shi Yubo, head of the China Energy Research Society, said that promoting the high-quality development of Belt and Road energy cooperation and building a greener and more inclusive energy future bring benefits to help cope with global climate change and promote green and low-carbon development among Belt and Road partners.