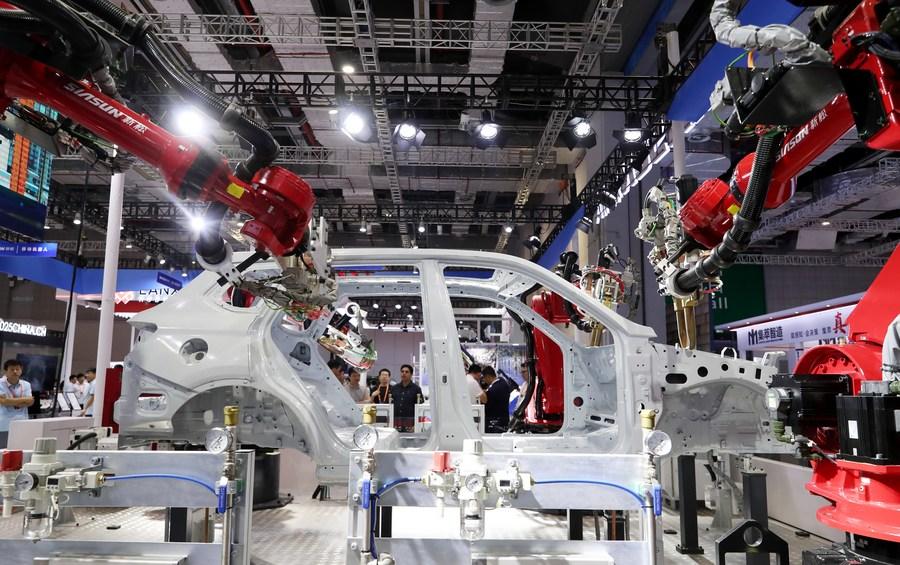 Visitors watch a robot welding an auto body during the 23rd China International Industry Fair (CIIF) in east China's Shanghai, Sept. 19, 2023. [Photo/Xinhua]
China's emphasis on advancing new industrialization is expected to provide a solid foundation for high-quality economic growth, improve the resilience and safety of its industrial and supply chains, and boost the country's core competitiveness globally, experts and company executives said.
They called for heightened efforts to enhance independent innovation capabilities and bolster the in-depth integration of cutting-edge digital technologies with the real economy, given that upgrading traditional industries has been high on China's development agenda.
Their comments came as President Xi Jinping stressed the importance of high-quality development in promoting new industrialization to lay a strong material and technological foundation for Chinese modernization.
Xi, who is also general secretary of the Communist Party of China Central Committee and chairman of the Central Military Commission, made the remarks in a recent instruction on pushing forward new industrialization.
Luo Zhongwei, a researcher at the Chinese Academy of Social Sciences' Institute of Industrial Economics, said, "The key to advancing new industrialization is to accelerate the transformation and upgrading of traditional industries through the adoption of new-generation information technologies, including artificial intelligence, 5G, big data and the internet of things."
More efforts should be made to cultivate strategic emerging industries, such as biotechnology, new energy, new materials, high-end equipment manufacturing and green industry, and foster new growth drivers amid downward economic pressure, Luo said.
He highlighted that China's latest push to promote new industrialization and speed up the construction of a modern industrial system underpinned by the real economy will help make the country's economy more resilient, strengthen its capacity to withstand external risks and shocks, and build the country into a manufacturing powerhouse.
Pan Helin, co-director of the Digital Economy and Financial Innovation Research Center at Zhejiang University's International Business School, said, "The purpose of pushing forward new industrialization is to ensure the long-term and sustained growth of the Chinese economy."
He emphasized the significance of developing the advanced manufacturing sector, which is playing an increasingly key role in bolstering technological innovation, safeguarding the stability of industrial and supply chains, and helping the country gain competitive advantages on the global stage. "It is very crucial to push the manufacturing sector toward higher-end, smarter and greener production," he said.
Pan called for efforts to beef up research and development investments and tackle bottleneck issues in core technologies in fields such as basic materials and software, precision components and integrated circuits, in order to reinforce the country's indigenous innovation capabilities.
Data from the National Bureau of Statistics showed that China's industrial output — a gauge of activities in the manufacturing, mining and utilities sectors — grew by 4.5 percent in August from a year earlier after a 3.7 percent rise in July.
The high-end manufacturing sector continued to grow at a good clip, as the industrial output last month in integrated circuits and optoelectronic devices jumped 21.1 percent and 29.9 percent year-on-year, respectively.
Li Dongsheng, founder and chairman of Chinese consumer electronics company TCL Technology Group Corp, said that China's resolve to advance new industrialization sets the direction for the country's high-tech manufacturing industry, which has become an important driver of its high-quality development.
"The manufacturing sector serves as the foundation of the real economy. As key players for propelling technological innovation, enterprises should continue to unswervingly invest in high-tech manufacturing and expand their presence in the upstream industrial chains," Li said.
China has maintained its position as the world's largest manufacturing nation for 13 straight years, accounting for nearly 30 percent of global manufacturing output in 2022, according to the Ministry of Industry and Information Technology.
Xin Yongfei, head of the Policy and Economic Research Institute at the China Academy of Information and Communications Technology, said that China's manufacturing industry has maintained recovery momentum, but it is facing some challenges under a complicated international environment.
"A breakthrough method is to bolster the digital transformation of traditional industries by introducing new production factors, new productivity and new models, so as to change the original development path of manufacturing," Xin said, adding that China should further enhance the proportion of manufacturing output in the country's GDP.
Zhou Yunjie, chairman and CEO of Chinese home appliance manufacturer Haier Group, said that as the country makes efforts to build itself into a manufacturing powerhouse, more push is needed to promote innovative applications of the industrial internet and fully unleash the value of massive data resources, which is the key to advancing new industrialization.