Over the past decade, Power Construction Corporation of China (hereinafter referred to as POWERCHINA) has actively implemented the Belt and Road Initiative (BRI) and continuously expanded its overseas businesses.
It has established six regional headquarters in eastern and southern Africa, central and western Africa, the Middle East and northern Africa, Eurasia, the Asia-Pacific, and Americas respectively, and set up branch offices in 121 countries and regions, with more than 300,000 employees globally.
As the world's largest power construction enterprise with the most complete industrial chain, POWERCHINA has more than 3,500 contracted projects under construction, with a total value of nearly 1 trillion yuan. It has become a major force of Chinese enterprises "going global" and a leader in China's power construction industry to explore overseas markets.
From "going global" to "entering overseas market" and then to "taking roots abroad," POWERCHINA is moving forward alongside partner countries to build the Belt and Road into a real path of cooperation featuring extensive consultation, joint contribution, and shared benefits.
Consolidating the foundation for cooperation and expanding the silk road circle of friends
The Jakarta-Bandung High-Speed Railway is the first high-speed railroad in Indonesia and even across Southeast Asia. POWERCHINA undertook the undertrack works and track-laying for the project. It offered a total of 15,390 prefabricated track slabs completely using technologies that China has independent intellectual property rights, which passed quality inspections at a rate of 100%.
Strong technical capability serves as the foundation for POWERCHINA to constantly expand its overseas cooperation domain. In 2023, POWERCHINA ranked 105th in the Fortune Global 500 list. Besides, it has topped the ENR Top 150 Global Design Firms list for four consecutive years. It also ranked 6th among the ENR 2023 Top 250 Global Contractors and 8th among the ENR 2023 Top 250 International Contractors.
From the Zhanatas wind power plant in Kazakhstan to the Jakarta-Bandung High-Speed Railway, a landmark project under the initiative, POWERCHINA has constantly expanded its circle of friends through win-win cooperation along the Belt and Road. To date, with BRI cooperation as the core, it has set up 265 branch offices in 46 of the 65 countries along the routes and implemented more than 2,000 construction contracts in those countries.
Expanding the scope of cooperation and upgrading from hard and soft connectivity to heart-to-heart connectivity
The cooperation between POWERCHINA and BRI participating countries involves not only hard connectivity of infrastructure and soft connectivity of rules and standards, but also heart-to-heart connectivity between the people.
Cote d'Ivoire once issued a set of commemorative stamps based on the Soubre hydroelectric power station. Alassane Ouattara, president of this African country, said that the people of Cote d'Ivoire would be always grateful to the contributions of POWERCHINA. The projects constructed by POWERCHINA overseas have not only realized connectivity in infrastructure, rules and institutions, but also deepened people-to-people bonds.
The Balu River in Dhaka, capital of Bangladesh, which used to suffer black and odorous water, has turned into an instagrammable place where villagers fish and children play with water. This is attributed to the completion of the Dasherkandi Sewage Treatment Plant. Funded by China, the sewage treatment plant was constructed by POWERCHINA according to Chinese standards.
China's leader once recommended the Adama wind power project in Ethiopia to heads of state of African countries at the Forum on China-Africa Cooperation. An EPC project undertaken by POWERCHINA, it is the first wind power project that marked Chinese technologies, standards, management, and equipment "going global" simultaneously. A total of around 2,100 local employees participated in the construction of the project. The project has not only increased energy supply in Ethiopia and injected new momentum into its economic development, but also helped the African country realize green development and improve the technical capacity of local professionals. It sets an example for pragmatic, win-win cooperation, hard and soft connectivity, and heart-to-heart connectivity between China and Africa.
The project isn't the only case. POWERCHINA has more than 30,000 overseas professionals, over 3,000 technological patents and over 460 industrial standards. Over the past decade, it has built a number of projects in fields like clean drinking water, low-carbon energy, transportation, and smart cities in BRI participating countries. With high-quality construction projects and high-standard services, it has actively fulfilled its social responsibilities in employment, education, and ecological governance to serve local communities.
Broadening consensus on cooperation and sharing benefits of development
Cooperation means working together to create a brighter future. Qatar pledged to deliver the first-ever "carbon-neutral" World Cup in 2022. The Alcazar 800MW photovoltaic power station built by POWERCHINA played a pivotal role in turning this promise into a reality. As part of the Qatar National Vision 2030, the project pioneered photovoltaic power generation and new energy development in Qatar. It can meet the electricity needs of 300,000 households and reduce carbon dioxide emissions by about 900,000 tons, providing strong support for the country's promise to host a "carbon-neutral" World Cup.
Cooperation means sharing benefits. The Cauchari photovoltaic power plant in Jujuy, a China-Argentina cooperation project signed under the witness of the heads of state of the two countries, is the largest photovoltaic power station in South America. By the end of February 2023, the project had generated electricity of 1.74 million MWh, greatly relieving the power shortage in the region. Within the first year after it began operation, the project already contributed revenues of US$65 million to the local government, accounting for 8.3% of its fiscal revenues. The project turns sunlight into wealth and lights up thousands of households.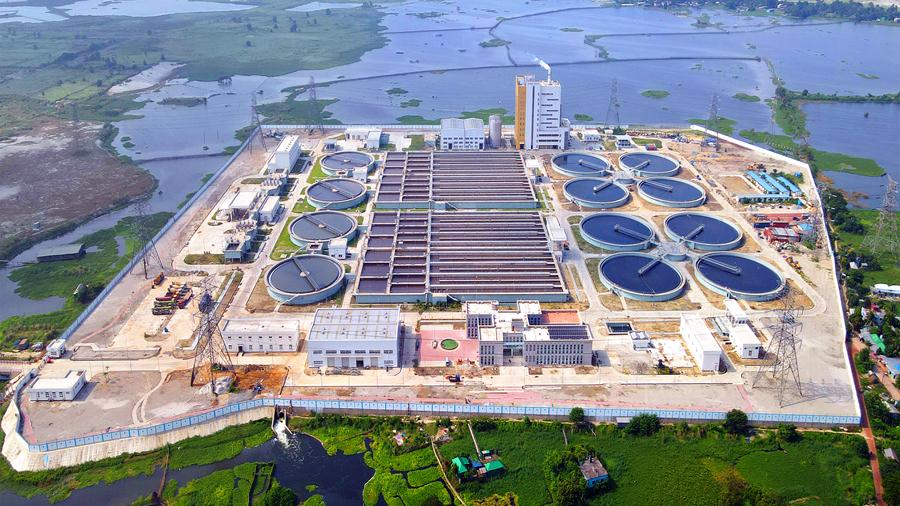 Dasherkandi Sewage Treatment Plant in Bangladesh [Photo provided to China.org.cn]
Cooperation means creating a win-win future. The overseas businesses of POWERCHINA offer jobs to some 110,000 local people and those from third countries, and in many projects local employees account for more than 90% of the total. The Kafue Gorge Lower Hydropower Station project in Zambia established the Sinohydro Institute to provide free training in the field of infrastructure development, which was later included into Zambia's national education system, providing personnel reserve for participating countries' future development.
Through exploring new driving forces and creating new opportunities for common development, POWERCHINA will continue carrying forward the spirit of the Silk Road and promoting the steady and long-term development of BRI cooperation.