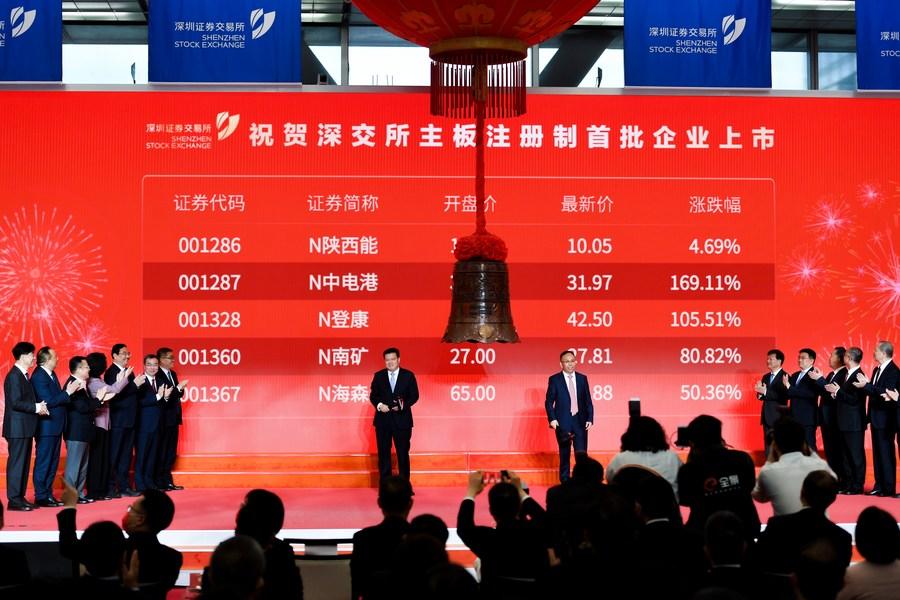 This photo taken on April 10, 2023 shows the ceremony celebrating the listing of the first batch of shares under China's registration-based initial public offering (IPO) system on the main board of Shenzhen Stock Exchange in Shenzhen, south China's Guangdong Province. [Photo/Xinhua]
Firms listed on China's Shenzhen Stock Exchange (SZSE) reported 15.06 trillion yuan (about 2.1 trillion U.S. dollars) in operating revenues in the first three quarters of 2023, up 4.19 percent year on year, according to a disclosure from the bourse.
As of Oct. 31, all of 2,830 firms listed on the bourse have released their third-quarter reports, with 78.3 percent reporting profits despite cumulative net profits falling 7.3 percent year on year to 881.26 billion yuan during the period, according to the disclosure.
More than 1,500 companies listed on the bourse's main board reported 12.26 trillion yuan in total operating revenues during the period, up 3.18 percent year on year, according to the SZSE data. Another 1,324 firms trading on the bourse's ChiNext market, China's Nasdaq-style board for growth enterprises, reported 2.8 trillion yuan in operating revenues, up 8.86 percent.