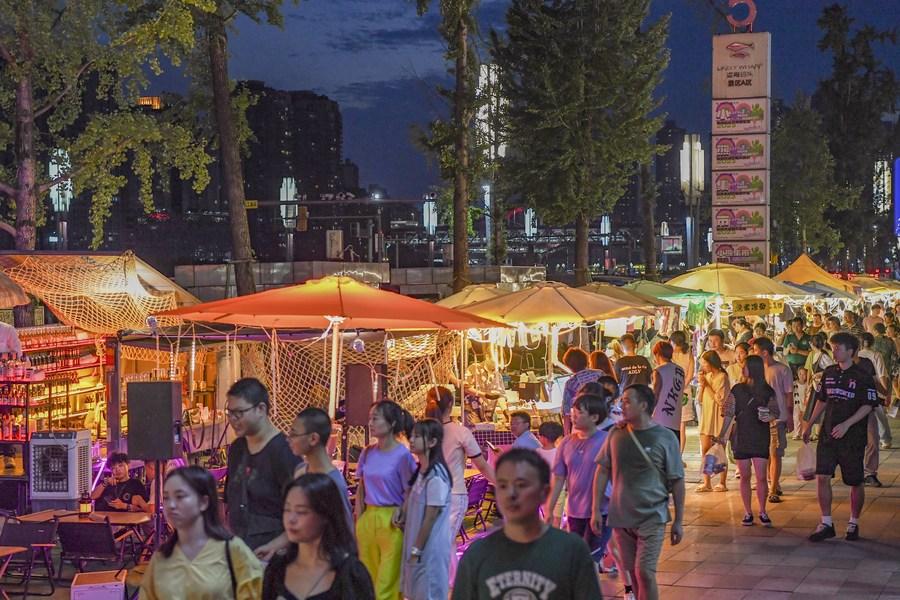 People gather at a night market in Jiangbei District, southwest China's Chongqing, Aug. 4, 2023. [Photo/Xinhua]
China's retail sales of consumer goods, a major indicator of the country's consumption strength, climbed at a faster pace of 7.6 percent year on year in October, official data showed Wednesday.
The increase, the fastest since May this year, accelerated from a rise of 5.5 percent registered in September, according to the National Bureau of Statistics (NBS).
According to NBS spokesperson Liu Aihua, the country has seen an evident recovery momentum of its consumption demand, which she attributed to various factors including the effective implementation of the government's consumption-boosting policies, intensive spending during the National Day holiday, and the promotion of the Singles' Day online shopping bonanza.
Retail sales in the country's urban regions rose 7.4 percent year on year last month, while that in rural areas expanded 8.9 percent.
Total retail sales of the country's consumer goods topped 38.54 trillion yuan (about 5.37 trillion U.S. dollars) in the January-October period, up 6.9 percent from one year earlier, according to the NBS.
Online retail sales jumped 11.2 percent year on year to 12.29 trillion yuan in the first 10 months. In particular, online retail sales of physical goods rose 8.4 percent year on year, accounting for 26.7 percent of the total retail sales of consumer goods.
As the country's economic recovery gains momentum, along with the effective implementation of consumption-boosting policies and an improving employment landscape, the foundation of consumption recovery and expansion will be further consolidated, Liu said.
Wednesday's data also revealed that the country's industrial output grew 4.6 percent year on year in October, accelerating from the 4.5 percent growth pace seen in September. However, investment in property development continued to cool in the first 10 months of 2023, down 9.3 percent year on year.