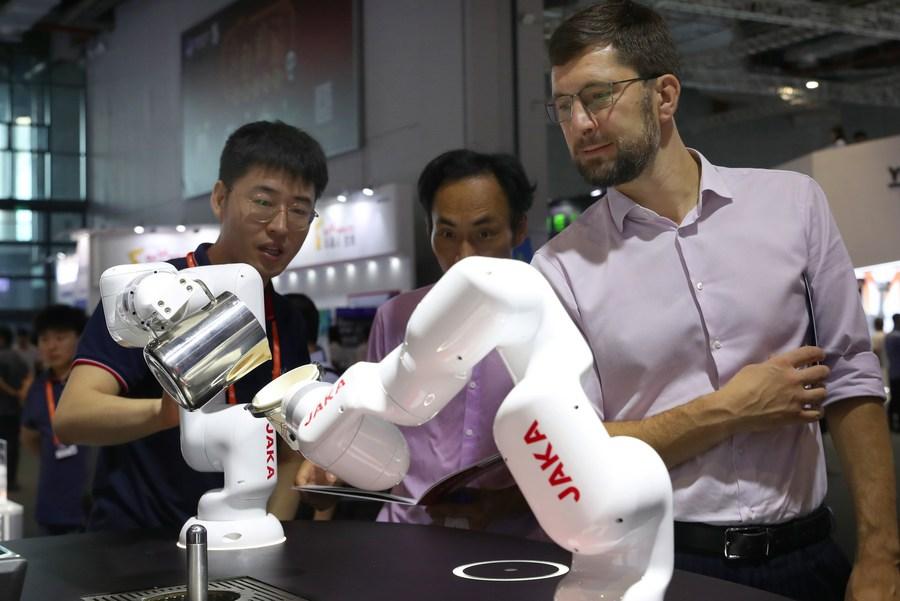 Visitors watch a robot making coffee during the 23rd China International Industry Fair, themed "Digital Economy & Industrial Decarbonization," in east China's Shanghai, Sept. 19, 2023. [Photo/Xinhua]
China is willing to collaborate with members of the Digital Economy Partnership Agreement (DEPA) to advance technical consultations, address pivotal provisions and mutual concerns, and explore practical cooperation in the digital economy sector, said a senior government official.

Speaking at a ministerial meeting between China and DEPA member countries in San Francisco on Tuesday, Wang Shouwen, China's international trade representative and vice-minister of commerce, emphasized that the Chinese government attaches great importance to joining DEPA, actively advancing the accession process, proactively aligning with high-standard international economic and trade rules, as well as steadily expanding institutionalized openness in terms of rules, regulations, management and standards, the Ministry of Commerce said in an online statement on Wednesday.
Signed by New Zealand, Singapore and Chile in June 2020, DEPA coordinates policies on the digital economy, and is the first of its kind in the world. China formally submitted its application to join DEPA in November 2021.
Since the formation of the DEPA working group for China's accession in August 2022, there have been meticulous communications at various levels between China and the member countries, resulting in positive progress in the negotiations. Such communications are ongoing, Wang said.
The DEPA member countries have positively assessed progress made by the working group, expressing a willingness to move forward in coordination with China, comprehensively advance negotiations at all levels, deepen cooperation in the digital economy, and facilitate substantive breakthroughs in negotiations at an early date, the ministry said.