The Belt and Road CEO Conference was held in Beijing on the sidelines of the third Belt and Road Forum for International Cooperation. About 1,200 representatives from 367 enterprises (institutions), international organizations, and economic institutions, as well as business leaders from both China and abroad, attended the event, at which nearly 300 Chinese and foreign attendees signed cooperation contracts.
Among them, Power Construction Corporation of China (hereinafter referred to as "POWERCHINA") has signed contracts worth US$11 billion in areas like seawater desalination, water conservancy, hydropower, new energy, waste-to-energy, power transmission and transformation, industrial and civil construction, transportation, and mining, involving East and South Africa, Asia-Pacific, and Middle, East and North Africa, the Americas, Eurasia, Central-West Africa, and other regions. The remarkable achievements set a "benchmark" for Chinese enterprises in new energy, infrastructure and other industries to go global.
A leading Chinese new energy enterprise going abroad
The Beijing Declaration adopted at the conference recognizes "adhering to green development" as one of the five-point initiative. As the driving force of global sustainable development, green development has been integrated into various fields of the Belt and Road Initiative (BRI) over the past decade.
POWERCHINA ranked first on the 2022 list of overseas power projects of Chinese enterprises, list of new energy enterprises, and list of wind power and solar energy enterprises released by the China Chamber of Commerce for Import and Export of Machinery and Electronic Products. Besides, it accounted for 48% of the total value of new energy construction contracts signed by Chinese companies abroad, ranking first for five consecutive years.
The strong wind from the Pacific Ocean blows through the wilderness of Patagonia, where wind turbines are spinning rapidly. The Helios wind power project, built by POWERCHINA, is located there. It is the largest wind power project in Argentina, as well as the first of its kind to be constructed after the establishment of the International New Energy Solution (INES) platform in 2017.
Initiated by POWERCHINA, the INES brings together global consulting agencies and investors in the field of new energy to jointly build a mutually beneficial and win-win cooperation platform for the global new energy industry and provide cooperation solutions for the whole new energy industry chain. So far, 29 companies have joined the platform, covering the investment, construction and operation of industrial projects in wind power, photovoltaic, solar thermal and others. So far, 69 projects have commenced construction, and those cooperation projects involve Argentina, Mexico and other countries.
In addition, leveraging its leading position in the global hydropower industry, POWERCHINA systematically carries out research on Chinese and foreign technical standard systems, compilation of Chinese and foreign standards, comparison of important technical standards and case analysis, providing technical support for the application of international standards for Chinese hydropower enterprises and laying the foundation for China's hydropower standards to integrate and lead the world standards. By doing so, POWERCHINA plays its due role in promoting the "soft connectivity" of standards and rules.
Injecting green energy into BRI participating countries
Focusing on its core advantages in "hydropower, energy, sand, urban construction and digital technology," POWERCHINA is committed to promoting the low-carbon transformation of its partners, the sustainable development of the ecological environment and the economic growth of local communities where the projects are located. It has undertaken a large number of major renewable energy projects and landmark projects with exemplary and driving effects.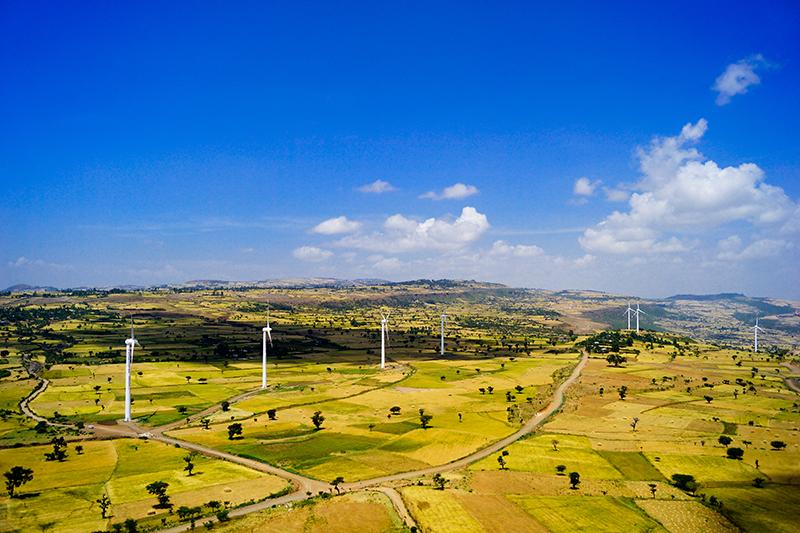 Adama II Wind Farm in Ethiopia [Photo provided to China.org.cn]
Due to a shortage of electricity, Africa had long suffered frequent blackouts and high electricity prices. POWERCHINA's new energy projects on the continent have helped alleviate this situation. At the Forum on China-Africa Cooperation, Chinese leader introduced to African heads of state the Adama wind power project in Ethiopia, the first of its kind that completely adopts Chinese standards, technology and equipment, which has become a model for new energy development in East Africa. The 233MW photovoltaic power station in Algeria, the Alcazar 800MW photovoltaic power station in Qatar, and other projects it built have diversified energy supply and provided low-carbon and clean energy options for countries in Middle, East and North Africa that are rich in oil and gas resources. The Mali Gouina Hydropower Station has generated electricity for Mali, Senegal, and Mauritania, greatly alleviating the power shortage in West Africa.
From Africa across the Red Sea to Saudi Arabia, POWERCHINA undertook the construction of the Red Sea New City project, which includes modules such as photovoltaic power, energy storage, power grid, seawater desalination, water supply network, and wastewater treatment. Among them, all energy storage projects use renewable, pollution-free clean energy, which is an important breakthrough for energy transformation in Saudi Arabia.
Unlike the scorching and wild scenery of the Saudi Arabia project, the Kross Reservoir in Poland is overgrown with shrubs, in which wild wagtails jumping amid branches. This is the third water conservancy project completed by POWERCHINA in Poland, it is built in strict accordance with all European environmental protection requirements, and more than 85% of the tank canopy retains the natural state with flying birds and swimming fish, attracting many tourists.
The falling water generates thunderous sound in Batang Hydropower Station, the largest and most difficult hydropower project under construction in Indonesia. It has been listed as a national strategic project of Indonesia. The project can effectively improve the energy structure of Sumatra formerly dominated by oil-fired and gas-fired generating units, and play a significant role in protecting the atmospheric environment, reducing air pollution, mitigating the harm of acid rain, and coping with global climate change.
Through developing green infrastructure, energy and engineering, POWERCHINA aims to boost economic and social development, promote energy transition, maintain ecological balance, reduce air pollution, and address the challenges arising from climate change. In the process of "going global," POWERCHINA has always taken "green" as the main tone of its efforts in implementing the BRI, and continuously deepened cooperation with participating countries over the past decade. By doing so, it will surely embrace another "golden decade."