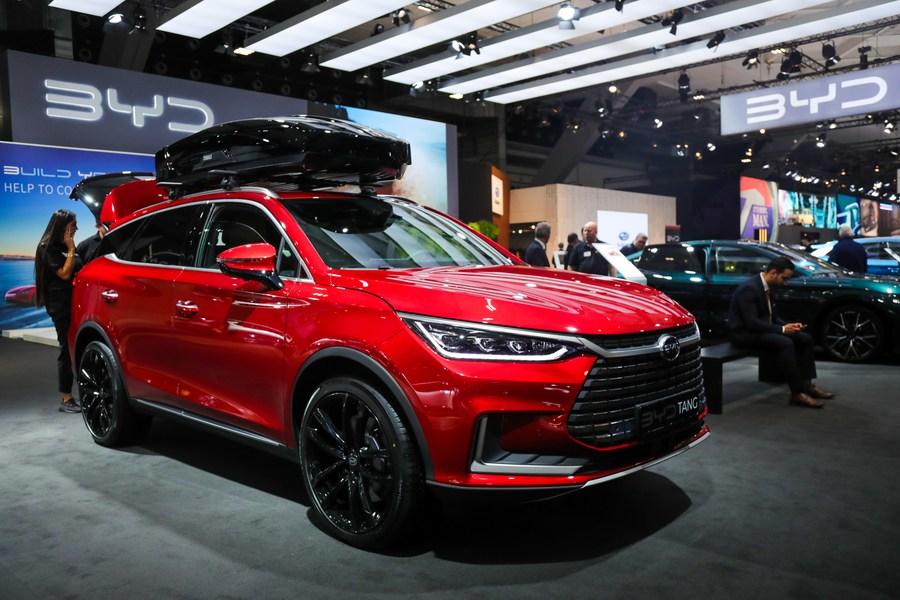 People experience a BYD Tang electric car during a media preview of the 100th Brussels Motor Show in Brussels, Belgium, Jan. 13, 2023. [Photo/Xinhua]
China is certain to become the world's largest automobile exporter this year, as its auto exports in the first 10 months hit 3.9 million units, an official with the China Council for the Promotion of International Trade said Friday.
Wang Xia, head of the council's automotive sub-council, made the remarks at the 21st Guangzhou International Automobile Exhibition that opened on Friday.
China's automobile industry has taken a solid step toward internationalization, despite a complex and grave international environment, Wang said.
In the first quarter, China exported 1.07 million vehicles, surpassing Japan for the first time to become the world's largest automobile exporter. In the first 10 months, the export volume registered a year-on-year growth of 59.7 percent to 3.92 million units.
The per vehicle export price has also grown to 137,000 yuan (about $19,100) in the first three quarters of 2023 from 85,000 yuan in 2014.
"In 2001, the export value of China's automobile industry chain was only $1.56 billion, taking up a global share of just 0.65 percent. In the first eight months of this year, this figure neared 122 billion dollars, accounting for 5.5 percent of the global total," Wang noted.
With the landing of a series of policies to stabilize the economy and promote consumption, and the gradual recovery of consumer confidence, China's automobile market will embrace new space of growth, Wang added.