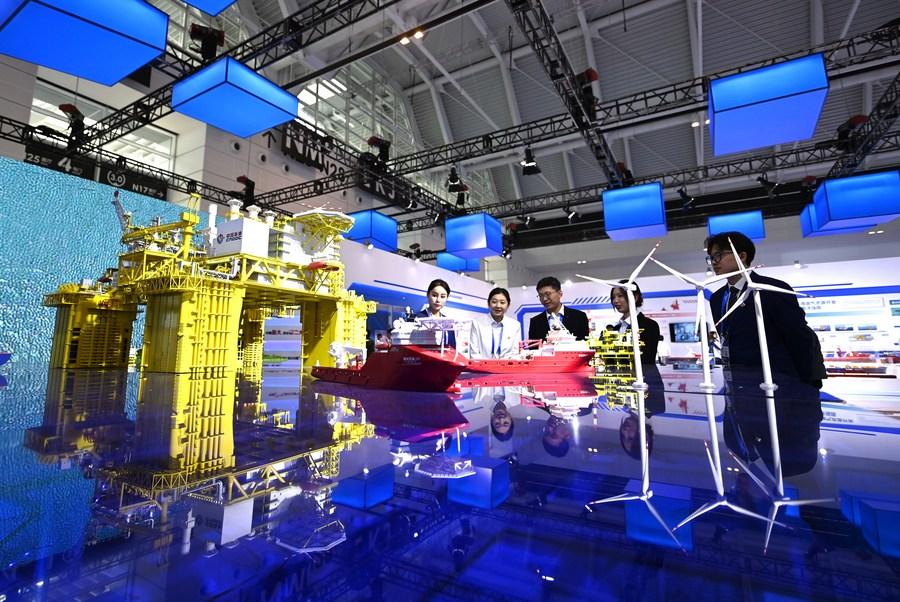 People visit the Tianjin International Shipping Industry Expo 2023 in north China's Tianjin, Nov. 16, 2023. [Photo/Xinhua]
Cheng Weidong has worked as a trailer driver in Tianjin Port for almost three decades. Over the years, the port and his job have changed a lot, with training AI transportation robots newly added to his duties.
"In the past, a skilled trailer driver could only transport a few hundred tonnes of cargo a day. Today, goods from all over the world can be transported, loaded and unloaded much more efficiently owing to the intelligent port construction," Cheng said.
Home to the world's first smart zero-carbon terminal and a demonstration area of port autonomous driving, Tianjin Port maintains shipping trade with more than 500 ports in over 180 countries and regions, and its cargo and container throughput ranks among the global top ten.
Tianjin Port is the epitome of China's shipping industry. This dynamic sector is characterised by innovation and improved efficiency, which have helped buoy global industrial chains and promote economic growth.
Connecting the world
The Tianjin International Shipping Industry Expo 2023 was held from Thursday to Saturday in north China's Tianjin Municipality to promote the development of the global shipping industry and marine economy.
"As we delve into the future of shipping at this influential gathering, we also reflect on the impressive advancements that have positioned China at the forefront of the maritime world," Jin Yu Cheong, head of Baltic Asia, said via video link.
The latest issue of the Xinhua-Baltic International Shipping Center Development Index Report shows that the Asia-Pacific region's shipping centers have continued to rise over the past decade.
Over the past 10 years, the centers of international shipping industry have undergone significant changes, with the goods, trade, and capital gradually moving eastward, said Hayao Gen, president of Fenghai Technology Consulting Services Co., Ltd., a consulting firm of Japan Port Group.
Chinese port cities such as Shanghai, Guangzhou and Qingdao now rank among the top international shipping centers, contributing to the stability of the global supply chains, said the port construction expert.
The Shanghai Port has ranked first in container throughput for 13 consecutive years. By the end of 2022, the number of shipping routes passing through the Port of Ningbo Zhoushan reached 300, including 248 international routes.
"In a rapidly evolving global trade landscape, China's achievements in shipping are paving the way for the future," said Jin Yu Cheong.
Benefiting the world
At Tianjin Dongjiang Free Trade Port Area, a container carrying wine shipped from Italy has just arrived. The wine will be sold across China.
"In 2017, we only introduced a few pallets of the wine of this brand and decided to 'wait-and-see' how the market would react," said Michelle Hu, operation director of Marquis (Tianjin) Trading Co., Ltd.
"Now we import several containers of Italian wine every year," said Hu, adding that years of promotion have helped improve consumers' recognition of this Italian brand.
Speaking via video link, Chinese Commerce Minister Wang Wentao said that in recent years, China had made solid strides in high-quality development of foreign trade, ranking first in global trade in goods for six consecutive years. The shipping industry played an important role.
Data showed that China's port cargo and container throughput have ranked first in the world for many consecutive years. In 2022, the cargo throughput of China's ports reached 15.69 billion tonnes, and the container throughput was 296 million twenty-foot equivalent units (TEUs).
In addition to logistics and trade, China has carried out in-depth global cooperation across the whole shipping industry chain, including global ports cooperation, shipbuilding and ship leasing.
As one of the largest shipping enterprises in the world, China COSCO Shipping Corporation Limited (COSCO Shipping) owns over 1,300 ships with a combined shipping capacity of 111 million deadweight tonnes, ranking first in the world. The company's global shipping routes cover more than 1,500 ports in 160 countries and regions, with an annual cargo volume of 1.3 billion tonnes.
"We have made the port of Piraeus a leading container port in Europe. With joint efforts of the COSCO Shipping management team, the company has made a significant contribution to the local economy, culture, society and finance of Greece," said Yu Zenggang, executive chairman of COSCO shipping (Piraeus) Ports Ltd.
George Xiradakis, president of Hellenic Shipping Finance Association, said that many Greek shipowners build their ships in China, and during the last decade, half of the Greek new ships were built in China.
"China has introduced a number of policies and measures to smooth import and export logistics, facilitate cross-border trade and innovate in the development of foreign trade, providing stable impetus to the world economy," said Liang Feng, an associate professor with Nankai University.