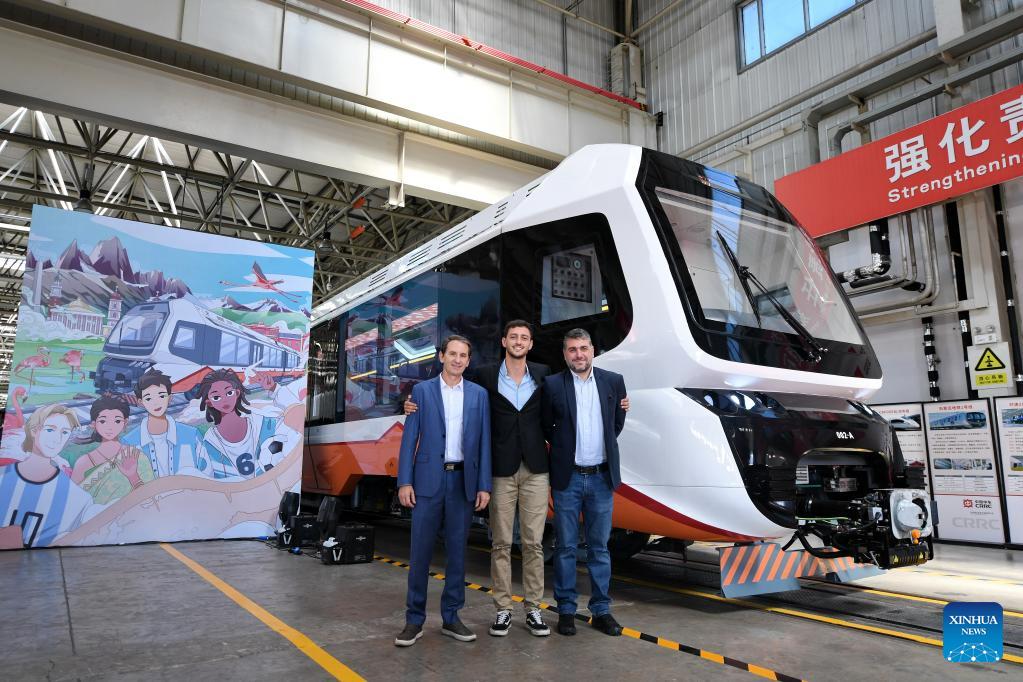 Argentine guests pose for photos in front of the first new-energy light rail train made by CRRC Tangshan Co., Ltd. for Argentina in Tangshan, north China's Hebei Province, on June 6, 2023. [Photo/Xinhua]
Chinese-made light rail trains are a step closer to running on the rails in Argentina, after a pair were recently delivered to the Latin American country.

Two new-energy light rail trains, produced by CRRC Tangshan Co, were delivered to Jujuy province in Argentina early on Tuesday local time.
The trains were transported by sea, arriving in the port of Zarate. They were then transported by land to Jujuy, which is about 1,500 kilometers from the port, according to Yin Yuguo, an employee at CRRC Tangshan who was responsible for the delivery.
The trains will be used at Quebrada de Humahuaca, a UNESCO World Heritage Site in Jujuy, according to the company.
The project was signed in May last year, and the construction of the trains was completed in June this year.
The six-axle articulated trains can run with a maximum speed of 60 kilometers per hour and have a flexible passenger capacity ranging from 72 to 388. With cabs at both ends, it enables two-way driving, according to a report by Xinhua News Agency in June, quoting Luo Chao, technical manager of the project with CRRC Tangshan.
The color and design of the train are based on the Quebrada de Humahuaca site, the report said.
Based in Tangshan, Hebei province, CRRC Tangshan Co is a major Chinese high-speed train manufacturer and has delivered a series of trains overseas.
The company has dispatched a delivery team to carry out preparations for the train's operation in Argentina, including train debugging and testing.
The trains will provide Argentines with high-quality services, help promote the tourism development of Jujuy and create a new model of win-win cooperation between China and Latin American countries, it said.