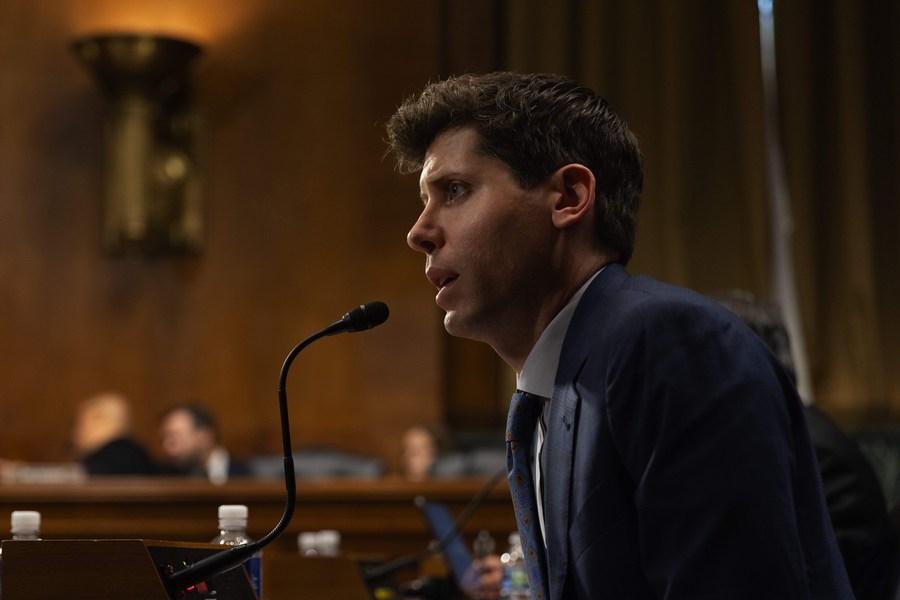 OpenAI CEO Sam Altman testifies at a hearing of the Senate Committee on the Judiciary on Oversight of A.I.: Rules for Artificial Intelligence, in Washington, D.C., the United States, on May 16, 2023. [Photo/Xinhua]
Microsoft Chairman and CEO Satya Nadella said Monday the company would hire OpenAI's former CEO Sam Altman and co-founder Greg Brockman and make them lead an advanced artificial intelligence (AI) research team.

"We look forward to moving quickly to provide them with the resources needed for their success," Nadella wrote in a post Sunday night on social media platform X, formerly known as Twitter.
"We remain committed to our partnership with OpenAI and have confidence in our product roadmap, our ability to continue to innovate with everything we announced at Microsoft Ignite, and in continuing to support our customers and partners," Nadella said.
Altman tweeted Monday that Nadella and his top priority remains to ensure OpenAI continues to thrive.
Altman was fired from OpenAI on Friday after OpenAI's board of directors said it "no longer has confidence in his ability to continue leading OpenAI."
"Mr. Altman's departure follows a deliberative review process by the board, which concluded that he was not consistently candid in his communications with the board, hindering its ability to exercise its responsibilities," the board said in a statement.
OpenAI was founded as a nonprofit in 2015 with the core mission of ensuring that artificial general intelligence benefits all of humanity.
In 2019, OpenAI restructured to ensure that the company could raise capital in pursuit of this mission, while preserving the nonprofit's mission, governance, and oversight.
OpenAI is also the inventor of the ChatGPT generative AI tool and has received billions of dollars in investment from Microsoft.
OpenAI on Sunday selected the former Twitch CEO Emmett Shear as the company's interim CEO.
According to a report by the San Francisco Chronicle, about 700 OpenAI workers and executives out of a reported 770 employees at the company have signed an open letter to the company's board of directors threatening to leave the startup and join Altman at Microsoft if the entire board does not step down.
In their letter, employees said they had lost confidence in the board members and demanded their departure.
"Your actions have made it obvious that you are incapable of overseeing OpenAI," they wrote. "We are unable to work for or with people that lack competence, judgment and care for our mission and employees."
The employees said they may choose to resign from OpenAI and join the newly announced Microsoft subsidiary run by Altman and Brockman.
"We will take this step imminently unless all current board members resign, and the board appoints two new lead independent directors," they added.
According to the letter, Microsoft has assured them that there are positions for all OpenAI employees at a new subsidiary should they choose to join.
One of the signatories to the open letter was OpenAI's chief scientist Ilya Sutskever, who is now the company's board member.
In his tweet Monday morning, Sutskever wrote that he deeply regretted being part of the board's ouster of Altman on Friday. "I never intended to harm OpenAI. I love everything we've built together and I will do everything I can to reunite the company," he said.