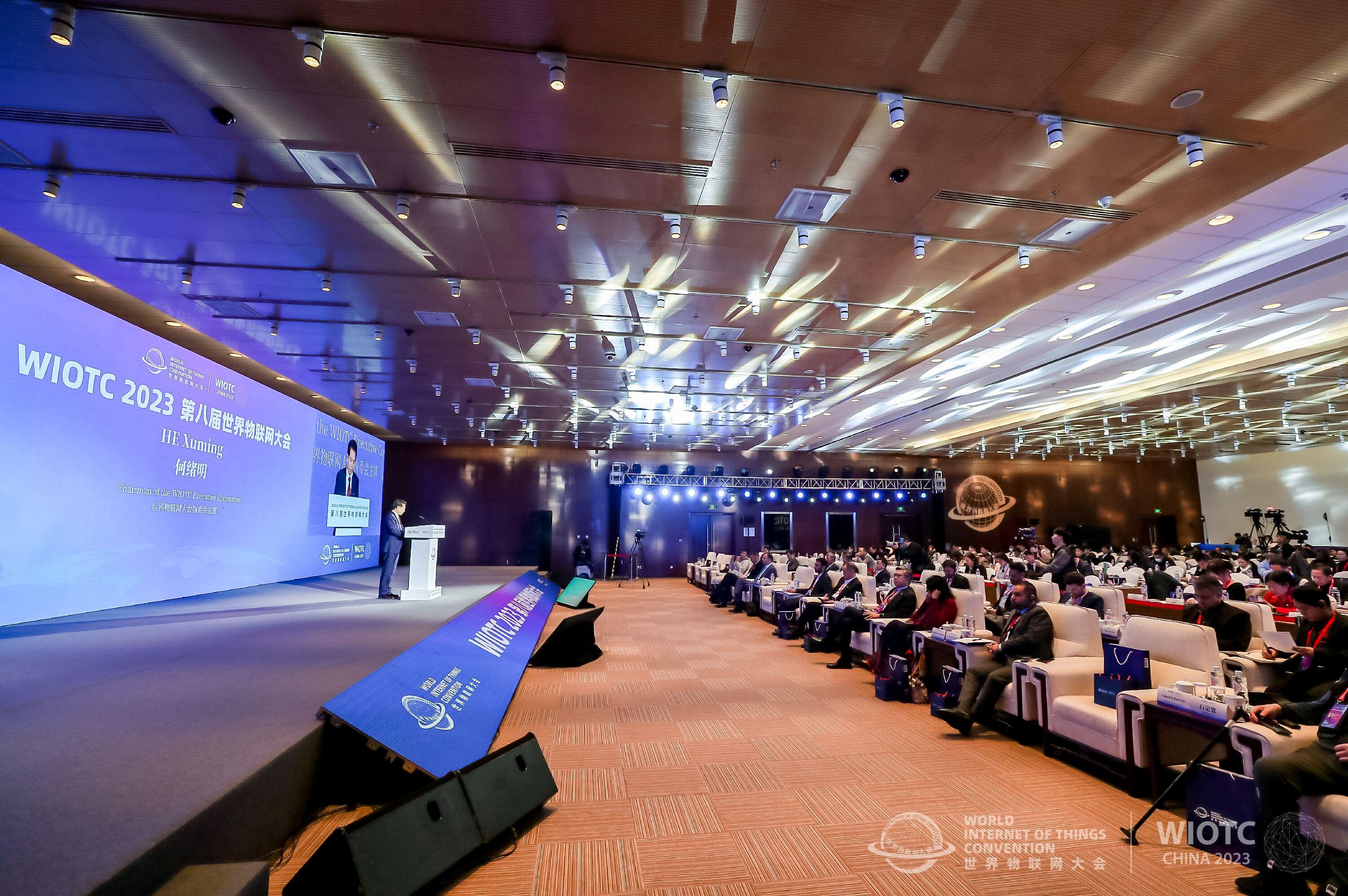 The 2023 World Internet of Things Convention (WIOTC) convened in Beijing from Nov. 20-21, 2023. [Photo courtesy of WIOTC]

The 2023 World Internet of Things Convention (WIOTC) convened in Beijing from Nov. 20-21, 2023, under the theme "New IoT, New Economy, New Era."
The annual convention, attended by leaders, government officials and executives from Fortune 500 companies worldwide, explored diverse topics, including industrial IoT, smart logistics, agriculture, energy, transportation and auto intelligence, healthcare, AI and finance.
In a message to the WIOTC, U.N. Secretary-General Antonio Guterres said that the Internet of Things is reshaping industries and driving socio-economic changes around the globe. "Through real-time data sharing and networking of information, IoT applications across transportation, agriculture, energy and healthcare are improving quality of life and can advance the Sustainable Development Goals," he said.
He also stressed the need for governance frameworks. "As we embed connected devices and Artificial Intelligence ever more deeply into our daily lives, the world needs governance frameworks that uphold human rights, security and privacy — and ensure a safer and more inclusive digital environment for all," he said.
Ulrika Francke, president of the International Organization for Standardization, praised IoT's gradual transformation of various systems, noting its positive influence in energy, agriculture, transportation, finance, healthcare, tourism and education. "And beyond that, the potential of IoT is limitless," she said. "A unified approach across systems and international borders is essential in ensuring that the full potential of the network is realized."
WIOTC Executive Committee Chairman He Xuming delivered a keynote speech at the event, in which he analyzed the data from authoritative research institutions and international organizations. He pointed out that the world digital economy driven by IoT intelligent technology is growing at a rate of 20% per year, while global IoT connections are expected to exceed 18 billion in 2023, an increase of more than 20% over the previous year.
He also praised China's role in the sustainable development of IoT infrastructure, saying that China is on track to build more than 3.2 million 5G base stations this year and become the country with the largest new-generation network in the world.
He added that China's digital economy is predicted to exceed 60 trillion yuan this year, with a growth rate of more than 25%.
The convention also issued the "Build the Intelligently Interconnected Global Market of Digital Economy" initiative, aimed at promoting the economic transformation and upgrading of the world's countries, jointly building a smart world supported by IoT, and helping to realize the U.N. sustainable development goals.