The wife of a performance artist jailed for having sex in public as part of the daring exhibition insisted on Monday her husband has done nothing wrong.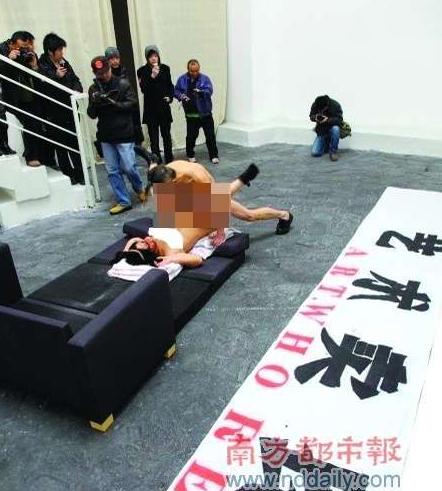 A performance artist Cheng Li is having sex in public as part of the daring exhibition.
Speaking just days after it was publicly announced Cheng Li has been sent to a labor camp for one year for "disturbing public order", wife Ma told China Daily she fully supported his decision to go ahead with the show.
"He talked to me about his plan beforehand," said Ma, who requested her full name not be used. "From what I was told by other people, I can't see that he (Cheng) did anything that crossed the boundary from art (into crime). I understand him."
Ma, who works in Lanzhou, capital of Gansu province, returned to the Chinese capital after hearing that police had detained her 57-year-old husband on March 24.
He was accused of taking part in a "pornographic performance" on March 20, when he and a female partner had sexual intercourse in front of a small crowd at the Museum of Contemporary Art in Songzhuang, Tongzhou district.
"Cheng is a noted performance artist in the (art) circle," said lawyer Wang Zhenyu, who is representing Cheng. "He was invited to the exhibition to perform there and he did it following the schedule of the exhibition. Although it was called an exhibition, it was not a public event; rather an internal communication among insiders."
He added that his client is considering appealing his punishment through an administrative review and "hopes to have a chance to explain himself, to let others know what he did".