Like hundreds of thousands of young people across China, 22-year-old Li Yingzi will don her rented cap and gown, step onto the stage at Renmin University's auditorium, shake hands with the university's president and receive her bachelor's degree.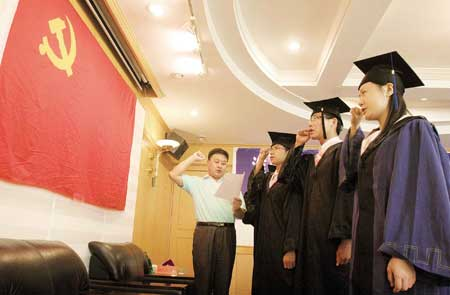 New graduates from Anhui Huaibei Normal University take an oath in front of the Party flag.
Li is also a member of another select group of young people who will achieve a second milestone this June. She will stand in front of a flag bearing the hammer and sickle; swear her allegiance to the Communist Party of China(CPC) and graduate from probationary to full member of the world's largest political party.
Li comes from Guilin, Guangxi Zhuang Autonomous Region, more than 2,500 kilometers south of Beijing and has been majoring in economics for the past four years at the School of International Studies in Renmin University in Beijing. "It's a moment I have been looking forward to for three years," she said with a chuckle. "It's a pity my parents can't travel to Beijing."
Along with the study-abroad craze, gaining Party membership has seemingly become the latest trend among a growing number of university students in China.
The phenomenon has also spurred debate: Are the Party membership seekers more like those who go abroad in the hope of advancing their careers, or do they truly share the high-minded values and selfless spirit that is supposed to personify Party members.
Almost half of new members
Statistics from the Organization Department of the CPC Central Committee show that in 2009, of the Party's 3 million new members, 1.2 million are university students, making them the largest single source of new recruits. It's believed this trend has been on the rise over the past 18 months.
Unlike many Party members, Li does not come from a "red" family. "We are not rich and both my parents are non-party people," she said, using the term that differentiates between those who belong to the Party and the multitudes who don't.
Li said it was the Party's altruistic founding principles that attracted her and she has vowed to "help the people on the bottom rung of society."
Unlike joining a political party in many Western countries, becoming a Party member entails a lot more than signing a membership card and paying a bit of dues. New members must achieve academic excellence, be committed to student activities and perform exemplary deeds for other students.
Becoming a Party member also requires passing extra courses on Party ideology.
Li began the process of becoming a Party member during her second year at college.
Before Li submitted her application, she had to win the support of most of her classmates by demonstrating her willingness to help them, especially those who were alone in Beijing without family or friends. "As a class leader I had to come up with ideas for class activities during festivals and holidays," she said.
After gaining the approval of her classmates, Li started to attend classes on Party ideology during her spare time. After completing the month-long study course and passing a test on communist theory, she attended another course and was tested again.
During this time two Party members were assigned to Li as her mentors. She was required to write monthly reports to them detailing her progress in understanding the Party.
A strict selection process
By the end of Li's third year at college, the Party branch at her school decided she was qualified to become a probationary member. It would be another year of study and indoctrination before she would be granted full membership.
"It's a strict selection process," Li said. She will be the eighth person in four years from her class of 20 students to gain Party membership.
Li now intends to attend a graduate program at Beijing Normal University, which she hopes will get her closer to her goal of finding a government job.
Some of Li's contemporaries suggest that the new interest in Party membership among the student body has more to do with enhancing job prospects than an eagerness to serve the people.
"I believe many of my classmates are pushed by their worried parents to join the Party," said Ye Jianan, a freshman from Renmin University. "Having a Party membership does look good on your CV."
For Ye, corrupt Party officials have tainted the Party's image and keeps him from making up his mind about joining the Party. "My grandma is a Party member but nowadays you don't find many people in the Party like her," he said.
Ye conceded he might change his mind about joining especially if the pressure from his parents increases and his job prospects don't brighten.
Party ideals trump personal motives
Even university officials in charge of recruiting new Party members are aware of these "impure" motives but it's not only students who have them. "It's the result of multiple factors," said Ouyang Qin, deputy director of student affairs at Tsinghua University. "We believe a majority of our students are charged with communist ideals."
Tsinghua University, which has 13,000 undergraduates and 15,000 graduate students, produces 1,500 new Party members every year. Last year, 28 percent of all undergraduates and 55 percent of all graduate students were Party members, according to the student affairs official.
Although Tsinghua is known as a cradle for new Chinese leaders, the percent of Party members among its senior students – 43 percent – is not the highest. Beijing's China University of Political Science reported that 55 percent of its senior students are Party members.
"The Party now encourages and welcomes more students to join but that does not mean we have lowered our selection standards," said Ouyang from his office on the Tsinghua campus in west Beijing.
"We have adopted a proactive approach to draw the best students to the Party," Ouyang said, suggesting that the students often shed their personal motives after being exposed to the positive influences of the Party.
"Young people have long been the targets of all sorts of forces," he stressed. "The Party cannot stay idle and let others take control."
Li, the soon-to-be Party member, is not shy about sharing her reasons for joining. "Everybody understands there are personal motives in gaining a Party membership," she said. "It does improve your job prospects."
She said that at a civil service examination she discovered that some positions were only open to Party members.
Applying for Party membership also requires a background check of the student's family. Letters are mailed to parents' employers asking if the applicant's mother or father had been involved in June 4 Tiananmen incident, practiced Falungong or signed the Charter 08 petition.
"Students whose parents were a part of these activities will be subject to further inquiry regarding their motives for joining the Party," Ouyang said, adding that "faults" in the parent's background won't necessarily mean a student's application will be rejected.
"Those who can demonstrate genuine motives will be accepted."
Some Party members acknowledge that the Party is now accessible to more students. Zheng Dongfang, Party secretary of Henan Agriculture Development and Management Institute who was in Beijing attending a training program for elite student Party members, recalled that in the late 1980s when he was at university, the Party accepted only one or two students from his graduating class. "The percentage is much higher now," he said.
Compulsory courses push interest
Intensive training programs at universities on Party ideology may be another reason behind the growing interest in Party membership.
Since 2005, the Ministry of Education has required all university undergrads to take four compulsory courses on Marxism, Mao Zedong Thought, Socialism Theory with Chinese Characteristics and Modern and Contemporary Chinese History.
Tsinghua University established the School of Marxism in 2008 to teach the courses and an elective on Party knowledge, which is attended by 2,000 students every year, making it the school's most widely attended elective, according to Tsinghua University.
The Party also remains active on campus with 380 study groups on Party ideology, involving 4,800 undergraduates. There are also student societies on Marxism, on truth-seeking, a student Party newspaper and a "red" website. As the newsletter points out, all these groups are like the "sewing machines of communist ideals."
"The biggest challenge of our work is to guard against the wrong ideological influences from the Internet, Charter 08, nihilism and democratic socialism," said Ouyang, noting that students at Tsinghua have access to all the websites that have been approved by the government.
After graduation some new Party members face a reality that's different than what they've been taught. A former Tsinghua student who joined the Party in 2003 noted that bigger influences come from society. "At work, you find it hard to stick to your beliefs," he said.
"Many people outside universities don't care whether you have a Party membership or not."
Fast facts on CPC membership
By the end of 2009, CPC had 78 million members;
Among them, 21.7 percent are women; 6.6 percent are people from minority nationalities;
In 2009, the Party recruits 3 million new members. Among them, 1.2 million are university students, making them the largest single source of new recruits.
Source: The Organization Department of the CPC Central Committee, June 29, 2010