The high-speed train collision in Wenzhou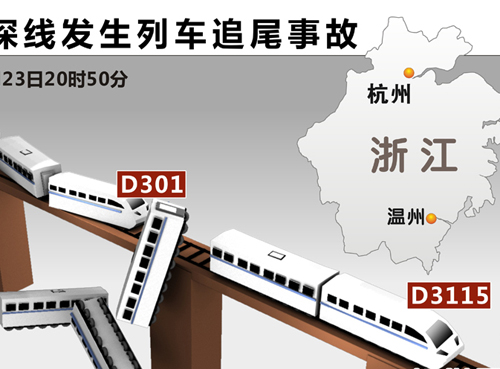 The high-speed train collision in Wenzhou
On July 23, a high-speed train rammed into a stalled train near the city of Wenzhou in the eastern province of Zhejiang, leaving 40 dead and 191 injured.
The accident occurred at 8:27 p.m. Saturday in Shuangyu Town of Wenzhou when a high-speed train (D301) heading from Beijing to Fuzhou rear-ended another bullet train (D3115) that had lost power and stopped after being struck by lightning, according to a Xinhua report. The impact caused four carriages to derail and fall off a bridge.
A series of flaws in train operation control system and inadequate emergency response of railway authorities are the major causes for the deadly accident, a final investigation report released on December 28.
Liu Zhijun, former railway minister, and Zhang Shuguang, the railway ministry's deputy chief engineer, are among 54 people who were found responsible for the crash, and will be punished, according to the State Council on December 28.