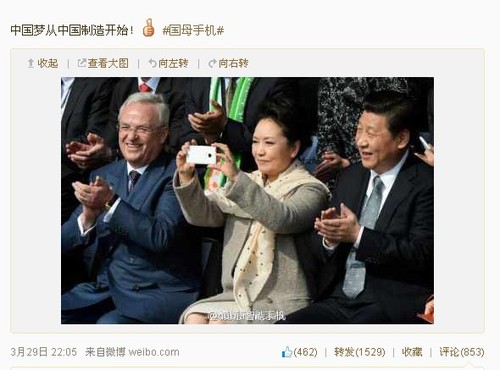 A smiling Peng is seen sitting between her husband Xi Jinping and Volkswagen CEO Martin Winterkorn, raising a white smart phone to take pictures of a friendly match between German and Chinese youth soccer teams in Berlin, during the couple's state visit to Germany. [photo / Weibo]
Chinese first lady Peng Liyuan has impressed the nation and the world since her first official appearance a year ago. Everything about her, her speech and choice of apparel, has been closely watched.
And now the latest social media craze about Peng among China's online community is, "what cellphone is she using?"
The answer may be a little surprising. Her latest choice of smart phone is 'Nubia,' not iPhone.
On Saturday, a picture of Peng snapping photos with a white mobile phone emerged on the Internet, prompting curious Internet users to speculate over exactly what brand the first lady favoured.
Although only the back of the smartphone and no logo was visible on the photo, gadget-savvy web users soon discovered that Peng's phone was a Nubia Z5 mini, a one-year-old model made by Chinese firm ZTE, the world's seventh-biggest smartphone maker.
The budget smartphone retails between 1,499 yuan and 1,888 yuan (US$241-304), but is no longer available on Nubia's official website as it has been replaced by newer versions.