Kubuqi Desert [China.org.cn]
As noted by Chinese President Xi Jinping, promoting ecological progress is of vital importance to the people's wellbeing and China's future; and it remains a daunting task to improve the ecosystem through afforestation. Nearly 30 years ago, the Kubuqi Desert in Inner Mongolia, the seventh largest desert in China, was a barren land with no water, electricity, or future. To alleviate poverty through desertification control, Elion Resources Group (ELION) has successfully afforested an area of over 6,000 square kilometers by means of technological innovation, leading to a 95 percent decrease in sand-dust weather and an increase by six times in precipitation in Kubuqi.
During the process of ecosystem restoration, ELION has blazed a trail in the industrial development simultaneously driven by desertification control and poverty alleviation, while building up a new mechanism that integrates the government policy support, corporate commercial investment and market-oriented participation by farmers and herdsmen.
At this time of the year when forage has to be prepared in pastoral areas, Chen Ningbu no longer needs to worry about the forage for his over 300 sheep this winter, since he has enjoyed a bumper harvest of crops he planted in the sand.
The village where Chen Ningbu lived is located in the Kubuqi Desert and it used to be afflicted by sandstorms throughout the year. Large tracts of grassland and farmland were swallowed then. In the 1990s, average annual income for each person in this area was less than 400 yuan, and the local pillar business, Hangjinqi Saltworks, was also having a hard time, suffering from an annual loss of five million yuan for years.
When the saltworks was on the verge of bankruptcy, ELION stepped in and took over its operation. To save the business, urgent actions against desertification were needed. It was then decided that for each ton of salt sold,  5 yuan should be used in afforestation efforts. However, the survival rate of trees in the arid desert was even under 10 percent.
To solve the problem, ELION used grids made from twigs of bulrushes and the Salix mongolica to protect the trees against strong winds and the sand, effectively increasing the survival rate to 60 percent, but the cost for each acre of trees soared to up to 6,000 yuan.
The soaring cost could not deter ELION, because the saltworks could resume its production only if the ruinous wind and sand are tamed by trees. At the time, the local government announced a new forestry policy, which stipulated that any individuals or institutions that have planted trees or forests or participated in the plantation efforts are entitled to the ownership or joint ownership of such trees or forests. The clarification of ownership has greatly encouraged ELION to step up its fight against desertification. However, opportunities come with challenges.
How to effectively reduce the cost for tree planting? A pivotal technical revolution was inspired by a half-finished bottle of water.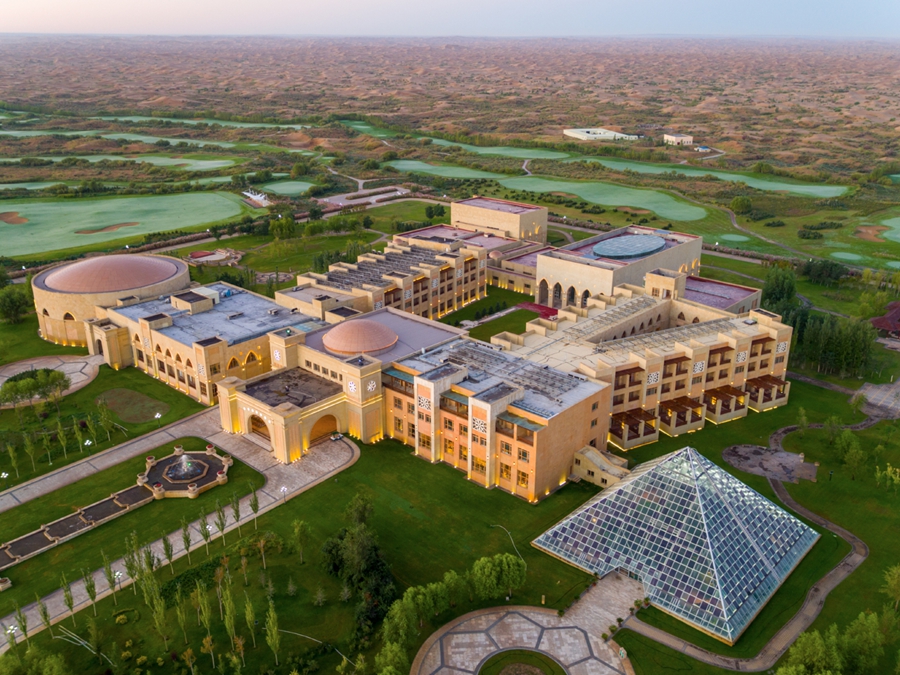 A hotel built by ELION [China.org.cn]
Drawing on the inspiration, ELION invented a special water nozzle, which uses high pressure water to instantly drill a hole into the desert, and allows for precise control of the depth of the hole. With the help of this powerful tool, tree saplings can be grown at one-meter-deep underground, well protected from the risk of being eroded away by moving sand, even without being surrounded by grids. This revolutionary technique proves to be highly cost-efficient.
New technological breakthroughs are made one after another, such as the use of spiral drills to punch holes in areas with water shortage, aerial seeding before the rainy season, and afforestation on windward slopes to borrow the wind power for reducing the sands and enabling the trees to grow better. Over the years, ELION has developed over 20 new technologies and cultivated more than 1,000 types of cold-resistant, drought-enduring and saline-tolerant plant seeds. While combating desertification, ELION also gains profits by outsourcing technologies and plants seeds. An improved species of licorice, for example, not only helps to control a sand area of over 10 square meters, but also makes an organic planting field following three to five years of cultivation, increasing its value by dozens of times after further processing.
With the dual advantages of desertification control and profit generation, ELION has begun to promote its green industry pattern, which works in this way: Elion provides seedlings and technical support, and handles purchase of products, while local farmers and herdsmen set up cooperatives to work with ELION. Within a few years, over 700 local cooperatives have been established and the planting areas of licorice alone reached about 360,000 acres.
In the process of combating desertification, ELION has found new business opportunities, and has now built up a comprehensive sand economy system worth over 30 billion yuan based on six eco-industry sectors ranging from husbandry to desert tourism, and pharmacy to photovoltaic power generation.
As one of the first industrial workers during the transformation process, Chen Ningbu has transferred to ELION the right of using his uncultivated sand land, and has become employed by the group, making an income of nearly 100,000 yuan a year from these two sources. The 100,000 poverty-stricken farmers and herdsmen living around the Kubuqi Desert area also have the opportunities to be engaged in a wide range of eco-driven industries, making an average annual income of 14,000 yuan.
With almost 60 percent of its area being improved, the Kubuqi Desert has become a textbook model for desertification control in the international community. Following the footprints of ELION, over 100 devoted teams have undertaken ecological restoration programs in Xinjiang, Gansu and other regions.
A sustainable development is a development with an emphasis on environmental improvement. It has taken Elion Resources Group 28 years to transform the Kubuqi Desert from the "Sea of Death" to the "Green Economy Oasis", bringing better environment and more financial benefits to the local communities and residents. The successful practice proves that right strategies and perseverant efforts are what matter in turning the vast expanse of sand into wealth and fortune along with a greener environment.