When local authorities seized Feng Aiqian's basket of shoelaces and buttons for the umpteenth time on a day in 1982, she decided to confront the Party chief of Yiwu county, Zhejiang province.
"I just want to sell things," she told Xie Gaohua, who had recently taken the post. Touched by Feng's circumstances — having to feed four young children and an elderly mother — Xie granted her permission to begin her small commodities business.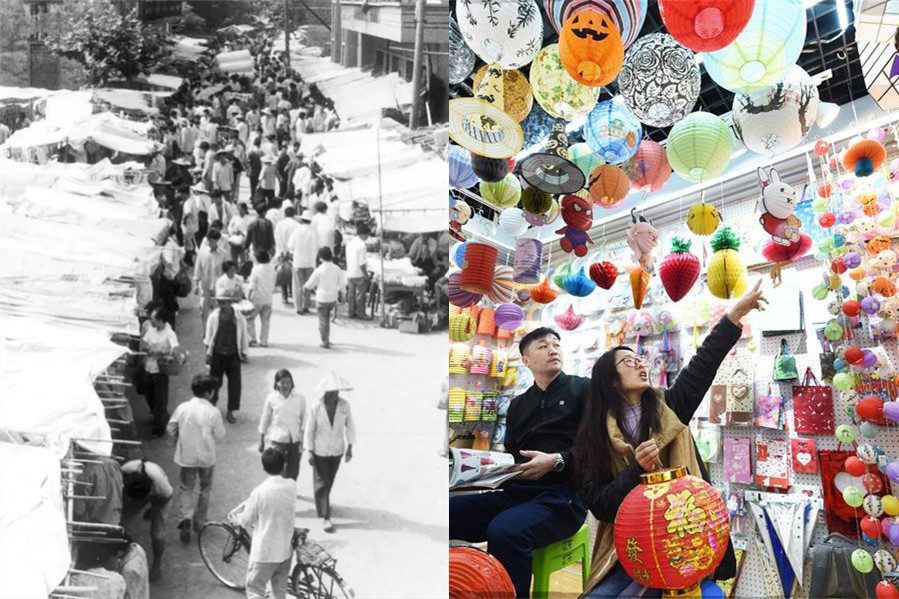 A composite of the first generation of Yiwu small commodities market in 1982 and the market now in February, 2018.
This meeting between Feng and Xie was written into the county's lore, told as the inception of the famous Yiwu small commodities market, which cut its ribbons four months later. Though begining as a collection of makeshift sheds, the market boomed, extending all the way towards the site of the Party committee where Xie worked.
Xie's decision was bold at the time. China had announced its reform and opening up four years ago, but few dared to openly endorse free market practices previously prosecuted as "capitalistic activities."
However, his support for Feng and the new marketplace proved game-changing: After several rounds of expansion in almost four decades, the Yiwu small goods market grew to house more than 380,000 registered businesses. Today, Yiwu annually exports more than 200 billion yuan (US$31 billion) worth of goods to countries around the world. The tiny town tucked in the hills in eastern China earned the name of "the world's largest small commodities market" and became an epitome of "Made in China."