China's four-decade reform and opening-up has led to a boom in the economy of Jinzhong, Shanxi province.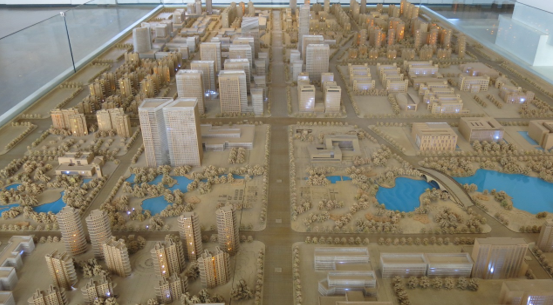 Known for its rich coal resources, the province is making efforts to transfer its economy away from heavy reliance on dirty fuels and toward cleaner air. In Shanxi province's plan to tackle climate change from 2013 to 2020, non-fossil fuels will account for 10-12 percent of primary energy consumption by the year 2020.
As for agriculture, the province overall is adjusting the structure of the planting industry to move towards higher-value crops and reap greater economic returns by: reducing the planting of corn while further developing grains, potatoes, fruit, medicine and forage crops, as well as a zero-growth on using fertilizer.
In 2017, the per capita disposable income of rural residents in poverty-stricken areas of Jinzhong increased by 10.7 percent, a figure 3.7 percentage points higher than in the province as a whole.
Jinzhong is also seeking to make the most of its cultural heritage and develop a sustainable tourism industry. More than 13 million tourists visited Pingyao last year, contributing over 15 billion yuan to the economy of Pingyao in 2017.
Let's take a closer look at these three growing industries in Jinzhong – new energy, agriculture and tourism – with some examples.
Transforming waste into energy in rural Shanxi
As home to one of China's major agricultural bases, Shanxi province has vast potential to utilize natural resources and waste. Located in Shouyang county, Shanxi Xinshitai Green Energy Co. Ltd. set up a biomass electricity generation project in 2011, to make use of local agricultural waste while at the same time producing electricity from renewable resources. [More]
Fruitful gains: Growing rich from apples in rural Shanxi
Despite previously studying clothing and fashion in Beijing, Wu Zhuqin moved back to her hometown in Shanxi province to pursue her apple dream in 2012, and in 2014 established the Niu Village Qing Qing Apple Plantation Professional Cooperative, with 150 members based in Niu Village, Yuci district. The cooperative brought together two villages, 615 households and 2,487 rural villagers, currently covering an area of 4,200 mu (about 692 acres) to produce mainly organic apples and related products. [More]
Pingyao cultural city: A unique treasure-box to discover
Many people have visited Nanluoguxiang, one of the oldest alleys in Beijing, and been enchanted by the alley's historical architecture and colorful souvenir shops. But those planning a return trip to Nanluoguxiang may want to consider a similar place that lies outside the hustle and bustle of Beijing. [More]