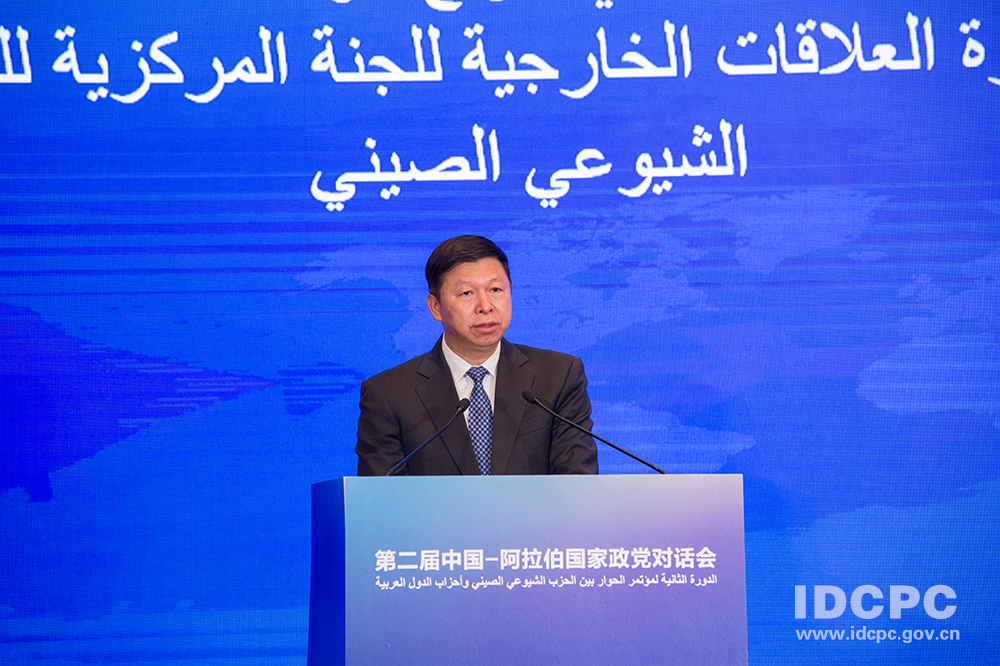 Under the theme "Working Together to Build a Better World," the second China-Arab Political Party Dialogue hosted by the International Department of the Communist Party of China (CPC) Central Committee kicked off Thursday morning in Hangzhou, Zhejiang province.
Addressing the opening ceremony, Song Tao, head of the International Department of the CPC Central Committee, called on the CPC and political parties in Arab countries to contribute to building a China-Arab community of a shared future and a better world.
The world is going through a new round of major development, transformation and adjustment. The reform of the global governance system and the international order is picking up speed. The world economy is going through profound adjustment. Protectionism and unilateralism are resurging. Uncertainties and instabilities still abound, and risks and challenges are growing.
Living in such a complex world, we need to ensure that peace and development remain the trend of our times. The vision for a better world calls on countries to act with the tide, Song said.
Song noted that the CPC firmly believes that in pursuing development, we need to follow the principle of seeking shared benefits through consultation and collaboration.
The CPC is willing to further promote friendly exchanges and pragmatic cooperation with political parties in Arab countries in all aspects to deepen China-Arab ties in the new era, as well as to make major contributions to world peace and development, said Song.
Song said, first, the CPC and political parties in Arab States will enhance strategic mutual trust and uphold equity and justice; second, we will learn from each other to pursue innovation-driven growth through reform and opening up; third, we will advance people-to-people exchanges and promote cooperation under the Belt and Road Initiative; fourth, we will push forward cultural exchanges among different civilizations following the spirit of inclusiveness and mutual learning, so as to lay a solid foundation for the development of China-Arab ties.
Mahmoud O. R. Al-Aloul, vice president of Fatah in Palestine, spoke highly of the efforts the CPC has made to promote China-Arab relations. Political parties in Arab countries will learn from the CPC's experiences of how to govern political parties and the country, actively participate in the Belt and Road Initiative, and are willing to work together with the CPC to take China-Arab ties to a new height.
Delegates from 17 Arab countries, most of whom are members of political parties, attend the dialogue and hold discussions with Chinese representatives on topics including BRI progress, reform and opening up, and China's experience in development and the inspiration to the world.