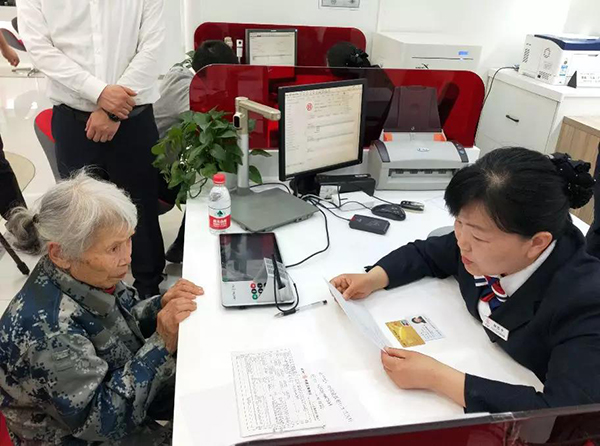 Ma Xu, an 85-year-old veteran and China's first female paratrooper, wired the remaining 7 million yuan ($1.04 million) on Monday of a 10 million yuan donation she promised to her hometown in Mulan county of Harbin, Northeast China's Heilongjiang province, ifeng.com reported.
Ma promised to donate her life savings in September 2018 to support education and cultural affairs in her hometown, and 3 million yuan of the donation was made on Sept 13, 2018.
In recent, Ma made her second transfer of 7 million to complete her dream. "I had an important thing to do today, so I got up early at six," Ma said on Monday.
At around 2 pm, huge applause welcomed the arrival of Ma and her husband Yan Xueyong at the Jichanghe sub-branch of China Merchants Bank in Wuhan, Hubei province, where the retired couple lives.
In the presence of officials from Mulan county, Ma transferred her savings of 5.5 million yuan to the government's official bank account. About half an hour later, Ma went to another bank to send another 1.4 million yuan, completing the donation.
After finishing the transfer, Ma said she would be more than satisfied if the donation could play a useful role in her hometown's education and cultural affairs.
The donation has been used to build a 4,000-square-meter arts and cultural center named after the veteran. Construction is projected to be completed at the end of October, and Ma will be invited to its opening ceremony.
Ma was born to a doctor's family in Mulan county in 1932 and joined the People's Liberation Army as a military doctor in 1947. In 1961, she turned from medical service to become China's first female paratrooper.
After retirement, Ma, who has no children, missed her hometown so much she finally decided to donate her family's savings, including royalties on publications and patents, to the county.
Today, the couple lives a frugal life in a small house in the Huangpo district of Wuhan. They still use their same hard bed from the 1970s, and their sofas date back 50 years. They also habitually wear their military uniforms.