Jizhou District strives to be a beautiful backyard garden of Tianjin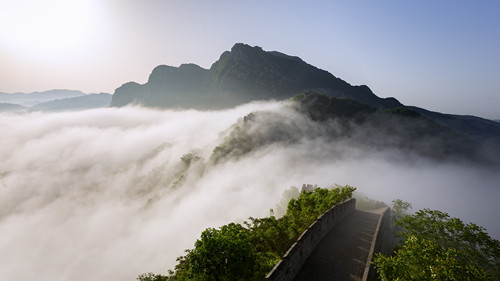 Jizhou District is hailed as the backyard garden of Tianjin for its picturesque mountains, clear rivers, fresh air and pleasant weather. It's a good choice for tourism.
With the social and economic development in Jizhou, the district's tourism services keep improving with growing attraction.
In 2013, it launched the beautiful Jizhou District program that aims to make the county more beautiful and more ecological through five major measures from industrial upgrade, new town construction, water source protection, mine surface renovation to beautiful villages construction. In respect of industrial upgrade, it prioritizes several leading projects of their own industries, including projects of environmental-friendly papers and cloud computing data center. It determines to cultivate a host of 10 billion CNY industrial clusters with full-range industrial chains.
Also, it strives to build top-notch scenic areas and build some hotels and amusements facilities. The added-value of services industry is estimated to account for 55 percent of the county's economy.
As for new town construction, in accordance with the positioning as "culture-highlighted ancient Jizhou, a backyard garden of Beijing and Tianjin and a health industrial city", it accelerates the construction of resettlement housings, business facilities, road and pipe networks and greening projects. By 2016, it would complete 3.71 million square meters' resettlement areas to accommodate 62,000 people from 90 villages.
In order to protect water source, Jizhou District will strengthen the ecological construction surrounding the Yuqiao reservoir. A total of 93,000 mu of fields at the reservoir area will adjust their planting structure to the high-efficiency ecological agriculture. As for the villages around the reservoir, the county plans to use ecological way to reconstruct 371,000 square meters' breeding houses, in order to ensure zero-contamination.
In the next three years, Jizhou District will finish the mines geological environment improvement project as a whole. The project includes mine surface rehabilitation of 3.372 million square meters and greening for 3.11 million square meters' mountains.
Meanwhile, the county will build a group of new towns and develop a host of tourism-oriented villages. It will upgrade 65 tourism villages and complete ecological upgrades of 77 villages, where centralized treatment of garage and waste water will be realized.
In addition, Jizhou District is accelerating the projects construction to improve the facilities in scenic spots. The infrastructure and service functions of its major scenic spots were improved in 2015. It has spent 102 million CNY for the first phase of Baxian Mountain-Limutai comprehensive services section, including a 3,800-square meters comprehensive service center, an ecological parking lot with 1,500 parking places and a 2-kilometer road. It has completed the transformation and upgrade project of the water resort in the lower spiral position of Panshan Mountain, including the upgrade of temporary parking place. This tourists' attraction's facilities for public performance were also improved and the performance is re-open to the audience. The other improvement projects for tourism included the construction of statistical and monitoring systems in four 4A or above level scenic spots. In the same year, Jizhou District has carried out the "toilet revolution" and built eight standard tourism toilets.
A total of 18.1 million tourists from home and abroad have traveled to Jizhou District in 2015, increasing by 16 percent year-on-year. In 2015, Jizhou's comprehensive income of tourism industry was 9.4 billion CNY, while the direct income from tourism was 1.88 billion CNY. In 2016, Jizhou District plans to receive 20.5 million tourists with tourism comprehensive income growing by 16 percent to 10.8 billion CNY.
In this year, Jizhou District will continue to push the tourism development. It will further improve the infrastructure in the scenic areas such as Panshan Mountain. It works to integrate the scenic spot tour with village tour. It plans to develop 49 tourism-highlighting villages and improve 300 farmhouses.