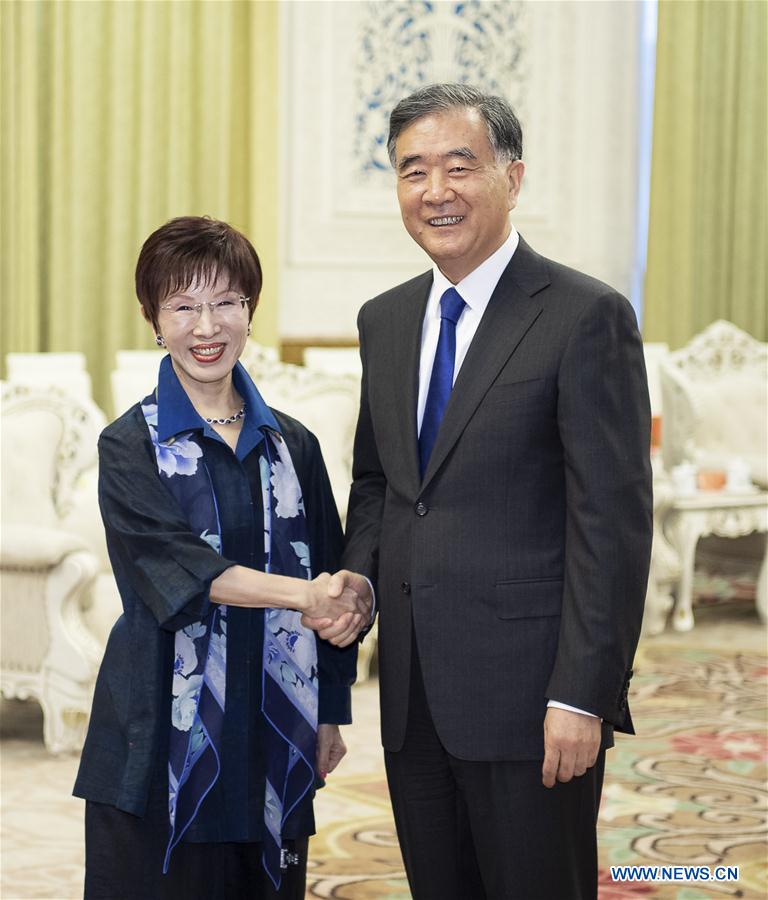 Top political advisor Wang Yang met with a delegation of personages from various circles in Taiwan led by Hung Hsiu-chu, former chairperson of the Chinese Kuomintang party, in Beijing on Monday.
Wang is a Standing Committee member of the Political Bureau of the Communist Party of China Central Committee and chairman of the National Committee of the Chinese People's Political Consultative Conference.
Wang said he appreciates Hung's long-term adherence to the 1992 Consensus and opposition to "Taiwan independence" as well as her contributions to the development of relations across the Taiwan Strait.
"National rejuvenation and the reunification of the motherland have a bearing on the future of Taiwan and the Chinese nation," he said.
Wang said people across the Strait should take safeguarding the interests and well-being of the whole nation as the goal of developing cross-Strait relations, take upholding the 1992 Consensus and opposing "Taiwan independence" as the banner to unite people on both sides, and regard jointly exploring a new road of integrated development as an important way to jointly seek national rejuvenation.
"On the common political basis of upholding the 1992 Consensus and opposing 'Taiwan independence,' we are willing to conduct dialogues and consultations with various political parties, organizations, and personages in Taiwan in various forms and on wide-ranging topics to build consensus and iron out differences," Wang noted.
Hung said people on both sides of the Strait should uphold the 1992 Consensus and oppose "Taiwan independence," promote exchanges, enhance mutual trust, and contribute to the integrated cross-Strait development and the realization of peaceful reunification.