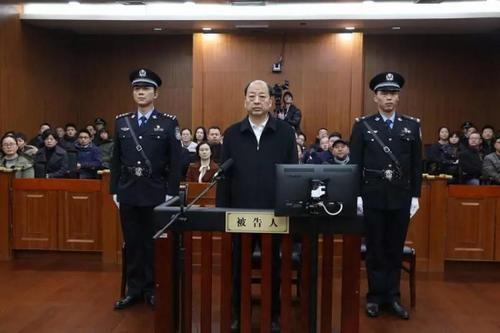 Feng Xinzhu, former vice-governor of Shaanxi province, was sentenced to 15 years in prison and fined 7 million yuan ($1.02 million) on Tuesday for taking bribes.
The Hangzhou Intermediate People's Court in Zhejiang province handed down the verdict, saying the money involved in Feng's case will be turned over to the State treasury. Feng said in court he accepted the verdict and would not appeal.
The court lightened Feng's punishment because he confessed his crimes and actively returned ill-gotten money and goods.
Feng took advantage of his positions, including chairman of an electricity enterprise in Shaanxi, mayor of Tongchuan and vice-governor of Shaanxi to help people with project investment, mining development, loans and personnel promotions from 1999 to 2017. In return, Feng received a total of about 70.5 million yuan.
Feng, 58, was born in Shaanxi. He began his career in 1981. He was appointed the province's vice-governor in 2015.
He was placed under investigation in January 2018 by the Central Commission for Discipline Inspection and the National Supervisory Commission for severe disciplinary violations and was expelled from the Communist Party of China and removed from public office two months later.
In other developments, three former provincial-level officials were arrested on bribery allegations, the Supreme People's Procuratorate said on Tuesday.
Miao Ruilin, former vice-governor of Jiangsu province, was arrested by the SPP on suspicion of taking bribes. In November, Miao was investigated by the country's watchdogs for "serious violations of discipline and law".
According to the CCDI, Miao violated the frugality code by accepting cash and gifts, and participating in banquets paid with public funds. He lived a luxurious life and used his power to do business with sex services.
In April, he was expelled from the Party and removed from public office.
Xing Yun, former senior legislator in the Inner Mongolia autonomous region, was arrested by the SPP for alleged bribery.
He was probed by the CCDI and the National Supervisory Commission in October for violating the law and Party discipline, and was expelled from the Party in April.
According to the watchdogs, Xing used his influential position to benefit individuals and enterprises, such as in job promotions, and he accepted huge bribes.
He was accused of interfering with judicial matters and caused serious damage to the selection and appointment system of officials, the watchdogs said, adding that he was greedy for economic benefits, maintained close connections with the owners of several companies and accepted their bribes in the form of cash or property.
Qian Yin'an, former member of the Standing Committee of the Shaanxi Provincial Committee of the CPC, was also arrested for alleged bribery.
All three cases were transferred to prosecutors after the National Supervisory Commission concluded its investigations.