More Party organizations are being set up in office buildings, as well as foreign and private enterprises in the run-up to the 90th anniversary of the establishment of the Communist Party of China (CPC), the Xinhua News Agency reported Monday.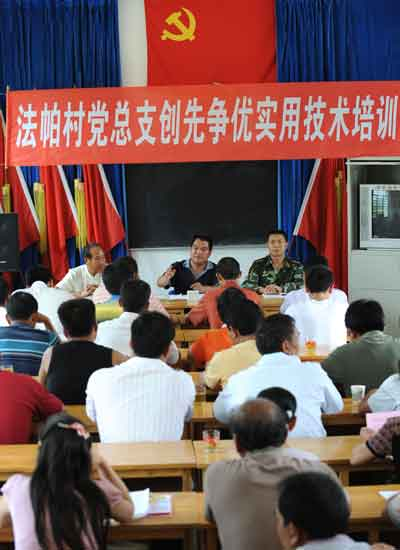 Party members of the Fapa village committee gather to learn about agricultural techniques on May 25 in the Dehong Dai and Jingpo Autonomous Prefecture, Yunnan Province.
As an increasing number of Party members work in the private sector and foreign-funded companies, which generally do not have Party organizations, many commercial buildings in Beijing, Shanghai and Anhui Province are establishing a new type of Party branch inside buildings to organize their members, the report said.
Fortune Square, a commercial building in Hefei, Anhui Province, has 17 Party branches under the leadership of a "Building Party Committee," which was established in July 2009 to bring together Party members.
"I became connected to the Party again through the building Party branch after I wandered outside for a long time," Shi Xiaoju, a Party branch secretary, said to Xinhua.
Shi, who works for a private human resources company in Fortune Square, recently organized 26 Party members in the building to discuss a book called Learn Management from Mao Zedong, which analyzes how Mao's strategic thinking can be applied to modern company management.
Looser connection
According to the Constitution of the CPC, primary Party organizations can be formed in enterprises, communities, social organizations, and other basic units where there are at least three full Party members.
Statistics released by the Organization Department of the CPC Central Committee said that the Party had some 78 million members and more than 3.79 million primary organizations by the end of 2009, compared with 2.11 million since 1978, the Xinhua report said.
However, not all Party members feel closely connected with the CPC or other members.
"I don't think Party membership adds any value to my current work, and sometimes foreign employers are concerned about your Party member identity and worry if you can stay in a foreign-funded corporate position for a long time," Xu Jie, a Party member working for an international sportswear company in Shanghai, told the Global Times Thursday.
"Party membership was popular when I was a university student, but when you are working, that identity does not really matter," Xu said, adding that the foreign-funded company she works for does not have a Party branch.
A similar situation exists even for those who work for State-owned companies, where Party organizations are commonplace.
"I think 'Party member' is just a title to me. I don't get any special treatment because of this identity, as all companies care more about your performance than Party membership," said a Party member surnamed Zhao who works in a Beijing-based State-owned company specializing in exhibition planning.
Zhao, 24, who joined the Party when he was a high school student, said he has not been invited to any event hosted by the Party branch in his company, but has to hand over about 150 yuan ($23) in membership fees every year.
Power base
Grass-roots Party branches are the most important channels for organizing members and are also the most important foundation of the Party's power, said Cheng Shu, an expert on Party construction at the Party School of the CPC Central Committee.
The Xinhua report said that the establishment of Party branches in office buildings and private companies indicate the CPC is changing with the times and reflects innovations in Party construction, which enables the CPC to better assemble its members and connect with the general public.
Digital China Holdings Limited, a Beijing-based private IT service company, established its own Party organization in 2001, when the company was founded, and now has more than 420 members.
The company's Party organization held various kinds of events in the first half of the year, including tree planting and a seminar to discuss the 12th Five-Year Plan (2011-15).
An oath-taking ceremony for newly approved members will be held in July, when the Party celebrates its 90th birthday, as well as a "red song" singing contest.
"I think the Party organization promoted our business in many ways, as it strengthened communication between different departments through various events," Zhao Yuzhu, a Party member at Digital China, told the Global Times.
Zhao said that Party members who have made the best annual business achievements are entitled to become candidates for selection for outstanding Party members, which is another way to boost the company's business.
Xu Jie joined a Party branch two years ago, which oversees members in her office building because her company does not have one.
Xu met with other members registered with the building's Party organization once in 2009, when the branch hosted a speaking event on CPC policy.
However, that was the only event she participated in as a Party member in the last two years, apart from submitting membership fees to the Party branch.
"I expected more interesting activities to be held," Xu said.
By the end of last year, foreign financial companies based in Shanghai's Pudong district had 94 Party organizations and 2,600 members, the Shanghai-based Jiefang Daily reported Wednesday.
Party organizations must extend to areas with active thought, people and complicated conflicts, so as to consolidate its power and connect more people, Cheng said.