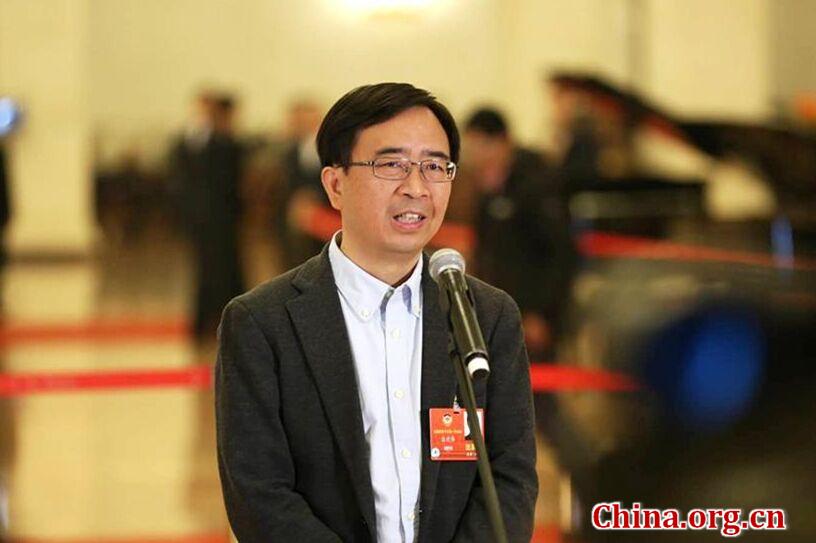 A top quantum scientist has revealed that China will make significant breakthroughs in quantum computing in the next three to five years, leading to advancements in supercomputing and public information security.
Pan Jianwei, one of the world's leading quantum physicists and a member of the 13th National Committee of the Chinese People's Political Consultative Conference (CPPCC), affirmed on Saturday at the first session of the 13th CPPCC National Committee in Beijing that China expects to make significant breakthroughs in quantum computing in the next three to five years, which will further the field of supercomputing and better safeguard public information.
Speaking on the sidelines of the first session of the 13th CPPCC National Committee at the Great Hall of the People, Pan, who is an academician at the Chinese Academy of Sciences and vice chairman of the Jiusan Society, said that it has been a longstanding dream of mankind to achieve the secure transmission of information.
"In theory, quantum communication can provide an information transmission mode that cannot be cracked or intercepted," he said. "So it will play a significant role in national defense, government affairs and financial matters, as well as bank transfers and personal privacy."
Dubbed the "Father of Quantum" in China, Pan explained that quantum computing is a very powerful tool: "For example, if we can control 100 particles to solve particular problems, then you will see quantum computing power reach 1 million times that of all the world's computing power combined. So it will solve problems that traditional computers cannot work out, such as weather forecasts, medical design and physical material design."
Pan emphasized that China is already leading the world in quantum communication technology and utilization. Last August, satellite Mozi, also known as Micius, successfully tested space-to-ground quantum key distribution and ground-to-space quantum teleportation. Last September, the world's first 2,000-km quantum communication line went into operation between Beijing and Shanghai.
"We hope that through Chinese scientists' efforts over the next five to 10 years, we can build an integrated space-and-terrestrial encrypted quantum communication network to guard information security for hundreds of millions of households in China," he said.
Last year, Chinese scientists also built the world's first multi-photon quantum computing prototype. According to Pan, China's quantum scientists plan to realize relevant manipulation of 50 quantum particles in three to five years, creating computing power on par with the fastest conventional supercomputer in certain problem-solving contexts.
Pan also stated that while international competition in this field is fierce, Chinese scientists are thrilled that China's central government has given it great focus. In the 13th Five-year Plan (2016-2020), quantum communication is listed as one of the nation's areas for heavy investment, including the establishment of a new national laboratory for the field.
"We hope we can amass all the relevant scientific powers of the nation to build collaborative innovation," Pan said. "We are very confident we'll continue to lead the world."