If you are interested in China's political issues, you might have noticed that Chinese Premier Li Keqiang has introduced a service called "SHARE YOUR THOUGHTS WITH CHINA'S PREMIER LI" through the State Council website, asking foreigners who are living, working, studying, or travelling in China, or those doing business with Chinese companies, to give their views on China's policy. Their opinions have helped shape the government work report in 2018.
Premier Li Keqiang delivers the government work report during the opening ceremony of the first session of the 13th National People's Congress at the Great Hall of the People in Beijing on Monday.
China will endeavor to make new breakthroughs in reform this year and continue to unleash and develop productive forces.
So what might interest people most in the government work report? China Focus has summarized the highlights as follows:
China to Open Doors Wider to Foreign Investors
China will open doors wider to foreign investors this year by completely opening up its general manufacturing sector and expand access to a number of other sectors, Li said.
Foreign investors will have wider access to sectors like telecommunications, medical services, education, elderly care and new energy vehicles, said Li.
"We will make market entry standards the same for both Chinese and foreign banks," he said.
To open up the financial sector, China will phase in an opening up of bank card clearing and other markets, lift restrictions on the scope of operations of foreign-invested insurance agent companies, and ease or lift restrictions on the share of foreign-owned equity in companies in sectors including banking and securities.
Overseas investors will be granted tax deferral for the reinvestment of profit made in China, while procedures for setting up foreign-invested enterprises will be simplified, and business filing and business registration will be processed together in one go.
The government will also spread the use of practices developed in existing free trade zones all over the country, and explore opening free trade ports, he said.
China Pledges More Measures to Stimulate Innovation
China will do more in implementing the innovation-driven development strategy, and keep on making the Chinese economy more innovative and competitive, Li said.
The country will empower innovation teams and leaders by seeing that they have more human, financial, and material resources at their disposal and more power to make decisions related to technology roadmaps.
Overseas Chinese students are encouraged to return to China to pursue business and other innovative ventures. The country will also attract more foreign talent, he said.
Basic research and application-oriented basic research will be strengthened. A number of major science and technology innovation programs will be launched, and top-quality national laboratories will be set up, the premier said.
Enterprises are encouraged to head up major science and technology programs. Collaborative innovation by research institutes, universities, and enterprises are also supported, according to him.
China will establish a state financing guaranty fund, support leading innovative enterprises in going public, and extend nationwide the pilot preferential tax policies for venture capital investment and angel investment, he said.
Tax Cut by Over 800 Bln Yuan in 2018
China will reduce taxes on businesses and individuals by more than 800 billion yuan (about 126 billion U.S. dollars) in 2018, Premier Li said.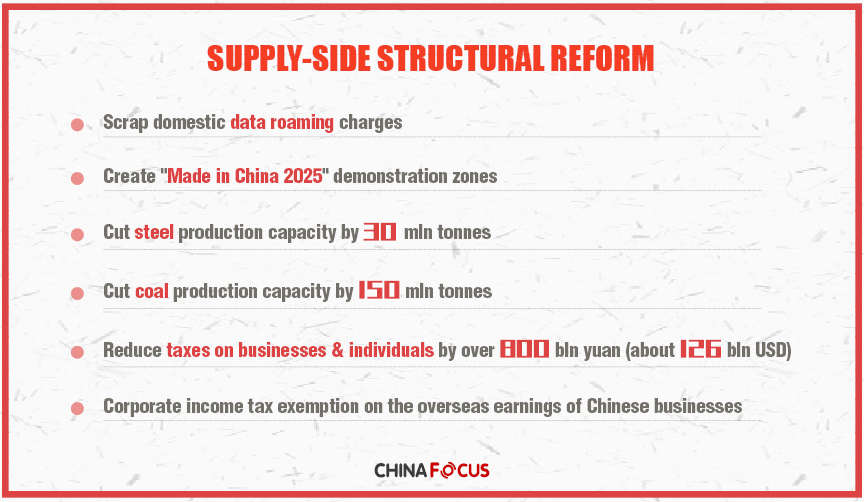 China will prioritize lowering rates in manufacturing and transportation, and raise the threshold for annual sales revenue for small-scale taxpayers, said Li.
Far greater numbers of small low-profit businesses will see their income tax halved, and the ceilings on deductible business purchases of instruments and equipment will be significantly raised, Li said.
A policy of uniform corporate income tax exemption on the overseas earnings of Chinese businesses will be put into implementation. More logistics companies will enjoy preferential tax treatment on their use of land for storage facilities.
Domestic Data Roaming Charges to Be Scrapped
China will abolish domestic data roaming fees to cut cost for increasingly digital Chinese consumers, Li said.
Rates for mobile internet services will be cut by at least 30 percent this year, according to the report.
China scrapped domestic roaming fees for long-distance calls last year as telecom operators turn to mobile Internet services for business growth.
"China will do more to speed up broadband and bring down Internet rates, achieve high-speed broadband access in both urban and rural areas, and make free Internet access available in more public places," said the document.
2018 GDP Growth Target at Around 6.5 pct
China has set its GDP growth target at around 6.5 percent for 2018, unchanged from that for 2017, according to the report.
Given China's economic fundamentals and capacity for job creation, GDP growth of around 6.5 percent will enable China to achieve relatively full employment.
The GDP growth target is the same as that of last year, but might deliver different growth as China makes it clear to prioritize growth quality over pace.
"We will strongly promote high-quality development," said Premier Li.
Prudent Monetary Policy to Remain Neutral in 2018
China's prudent monetary policy will remain neutral this year, with easing or tightening only as appropriate, according to the government work report.
The government will make sure that the valve of aggregate money supply is well controlled and maintain a moderate growth in M2 monetary supply, credit and aggregate financing, said the report.
Efforts will also be made to ensure a reasonable and stable level of liquidity, and increase the proportion of direct finance, particularly equity finance.
"We will improve the transmission mechanism of monetary policy, make better use of differentiated reserve ratio and credit policies, and encourage more funds to flow toward small and micro businesses, agriculture, rural areas, and rural residents, and poor areas, and to better serve the real economy," the report said.
China Fully Capable of Forestalling Systemic Risks
Chinese Premier Li Keqiang on Monday expressed strong confidence in the nation's ability to prevent systemic risks.
"We are fully capable of forestalling systemic risks," Li said.
China's economic and financial risks are on the whole manageable, Li said.
"What China needs to do is to tackle both symptoms and root causes and take effective measures to defuse potential risks," he said.
Li vowed serious crackdown on activities that violate the law like illegal fundraising and financial fraud.
The country will strengthen coordination in financial regulation, improve regulation over shadow banking, internet finance, and financial holding companies, and further improve financial regulation, he said.
Consumer Inflation at Around 3 pct in 2018
China aims to keep consumer inflation at around 3 percent in 2018, according to the report.
Over the past five years, consumer prices rose at an average annual rate of 1.9 percent, maintaining a relatively low level of growth.
In 2017, China's consumer price index (CPI) rose 1.6 percent year on year, lower than the around 3-percent annual target.
The CPI rose 1.5 percent year on year in January, according to the National Bureau of Statistics data.
Over 10 Mln People to be out of Poverty in 2018
China will further reduce the poor rural population by over 10 million, including 2.8 million people who are to be relocated from inhospitable areas, Premier Li said.
Poverty alleviation efforts will be carried on through the development of local industries, education, and healthcare, Li said.
China will do more to support areas affected by extreme poverty, and the central budget's newly enlarged poverty reduction funds and related transfer payments will be weighted toward these areas.
Li said that China will tailor measures to individuals and individual households to ensure that targeted poor populations, including elderly people, people with disabilities, and people with serious diseases, receive the assistance they need.
"Surveyed Urban Unemployment Rate" Within 5.5 pct in 2018
China aims to keep the surveyed urban unemployment rate within 5.5 percent, according to the report.
It is the first time for China to use this indicator as a projected target, intending to give a fuller picture of employment and to better reflect the requirement of development that is to be shared by everyone, said the report.
The surveyed urban unemployment rate covers rural migrant workers and other permanent urban residents.
The country also aims to create over 11 million new urban jobs this year and keeps the registered urban jobless rate within 4.5 percent.
China to Make Greater Progress in Addressing Pollution
China will cut sulfur dioxide and nitrogen oxide emissions by 3 percent and achieve a continuous decline in PM2.5 density in key areas, Premier Li said.
China will encourage upgrading in the steel and other industries to achieve ultra-low emissions, and continue efforts to prevent and control water and soil pollution, Li said.
This year, chemical oxygen demand and ammonia nitrogen emissions will be cut by 2 percent, he said.
The government will redouble efforts to protect and restore ecosystems, and finish setting redlines for ecological conservation across the country.
Guangdong-Hong Kong-Macao Coordinated Development to be Unveiled
China will unveil and implement the development plan for the Guangdong-Hong Kong-Macao Greater Bay Area, among other moves to promote coordinated regional development of the country this year, Premier Li said.
Over the past five years, exchanges and cooperation between the mainland and Hong Kong and Macao have been steadily enhanced as the construction of the Hong Kong-Zhuhai-Macao Bridge has been completed, Hong Kong and Macao have thrived and remained stable.
The Guangdong-Hong Kong-Macao Greater Bay Area is one of China's regions that are called for coordinated development. Others include the Beijing-Tianjin-Hebei area and the Yangtze Economic Belt.
According to the report, the country will make solid progress in the coordinated regional development strategy, and create a new landscape in regional development.
China to Accelerate Efforts to Become Manufacturing Powerhouse
China will launch an initiative to shore up weaknesses in major equipment manufacturing amid efforts to become a global manufacturing giant, according to Premier Li.
China will promote the development of integrated circuits, 5G mobile communications, aircraft engines, new energy vehicles, and new materials, he said.
The government will develop industrial Internet of Things platforms, and create "Made in China 2025" demonstration zones, he said.
Steel Capacity to Cut by 30 Mln Tonnes, Coal by 150 Mln Tonnes in 2018
China will cut ineffective steel capacity of 30 million tonnes and coal capacity of 150 million tonnes in 2018, said the report.
Meanwhile, coal-fired power generating units with a capacity of less than 300,000 kilowatts that fail to meet standards will be closed this year, according to the report.
Active Expansion of Imports in 2018
China will actively expand imports this year as it aims to further open up its market, said the report.
To encourage imports, China will host the first China International Import Expo this year and lower import tariffs on products including automobiles and some everyday consumer goods, according to the report.
"We will open our market wider to promote industry upgrading and more balanced development of trade, and to provide Chinese consumers with a broader range of choices," it said.