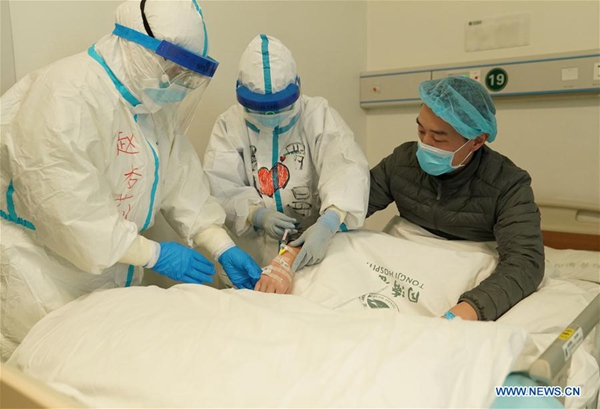 Medical workers inject medicine for Li Zuofan (R) at an intensive care ward of the novel coronavirus infection cases at a branch of Tongji Hospital affiliated to Tongji Medical College of Huazhong University of Science and Technology in Wuhan, central China's Hubei Province, Feb. 18, 2020. Li Zuofan, 39, is a doctor working at the anesthesiology department in the Tongji Hospital affiliated to Tongji Medical College of Huazhong University of Science and Technology. He got infected with the novel coronavirus (COVID-19) when performing an operation with a novel coronavirus infection case. Through treatment, Li has recovered a lot and hoped to return to his duty after recovery as soon as possible. (Xinhua/Wang Yuguo)
China is working very hard to bring the outbreak of the new coronavirus (COVID-19) epidemic under control. In so doing, it is trying to protect the health of the entire world population.
Therefore, we owe a debt of gratitude to all officials and volunteers who are working around the clock to contain the virus and to treat those suffering from it. The stamina and resilience of the Chinese people are admirable.
The tens of thousands of front-line medical workers in particular, who are putting their own lives at risk while trying to save patients' lives, should be commended for their courage and selflessness.
Some Western human rights organizations have raised concerns about the quarantine measures taken in Hubei province, because they severely restrict the freedom of movement of the inhabitants. The concerns expressed by such organizations stem from the Western emphasis on the individual dimension of human rights protection.
Thus, it is not uncommon for U.S. citizens who suffer from highly contagious pulmonary tuberculosis, and who are therefore put in isolation, to challenge such measures in court because they restrict their personal liberty.
This would be unimaginable in China, where the feeling is that individual interests sometimes have to yield to the wider collective one. For this reason, China has called the fight against the coronavirus a "people's war."
This symbolizes that the campaign against the virus can only be won with the support, the efforts and also the sacrifice of the Chinese people. This approach towards human rights may be different from the individualist perception cherished in the West, but is equally legitimate.
Thus, Article 1 of the Universal Declaration of Human Rights requires that human beings should act towards each other in a spirit of brotherhood, while Article 29 states that everyone has duties towards the wider community.
Although China's attempts to contain the virus have been praised by many, including the WHO, others have seized this opportunity to air their prejudices. They claim that the virus is "made in China" as a result of an exotic diet or poor hygiene.
They also refer to the disease as the "Wuhan virus" to suggest that it is man-made rather than caused by microbes. I find these suggestions deeply offensive, not least because I have many friends and colleagues in Wuhan as a result of our cooperation with the International Law Think Tank of Wuhan University.
Falsely blaming the Chinese people for the spread of the virus rather than regarding them as the victims is insensitive at the very least.
This growing negativism is probably related to China's rise as an economic and political power on the world stage. According to social identity theory, those who discriminate do not hate their victims, but rather themselves.
The rapidly changing economic and political circumstances at the global level make people insecure and they project that insecurity onto China. This may explain this phenomenon, but it does not justify it. There is no valid excuse for Sinophobia.
When it is related to the coronavirus, it not only affects China and its citizens, but also people of Chinese descent residing in Western countries. In Europe, they have been refused access to restaurants, shops and public transport because of fear that they might be carrying the virus.
They have been ridiculed and insulted by passers-by as well as on radio, television and social media. It looks as though latent negative feelings about fellow countrymen of Chinese descent are now coming to the surface.
Older members of the Chinese communities in Europe have been exposed to this kind of phobia as long as they can remember. They have coped with it by applying the motto "don't get mad, don't get even, get ahead." They have ignored the insults and have instead invested in their social mobility. As a result, they are by far the most economically successful and highly educated people in many Western countries.
However, this strategy has not brought these acts of discrimination to an end as the current wave of Sinophobia shows. The younger generation has adopted a new strategy, namely to confront those who engage in this kind of racism, and hopefully that will work.
Tom Zwart is professor of Cross-cultural Law, Utrecht University, and director of the Cross-cultural Human Rights Centre, Free University of Amsterdam.
(The Cross-cultural Human Rights Centre enjoys strong relations with the members of the Chinese community in The Netherlands and stands shoulder to shoulder with them to tackle this kind of racism. Those who encounter Sinophobia can bring it to the attention of the UN Special Rapporteur on contemporary forms of racism, racial discrimination, xenophobia and related intolerance, Prof. Tendayi Achiume. Prof. Achiume and her team will consider the applications and may act upon them. The link provided below connects to a flyer which contains information on how to submit a complaint. With the help of these means, we can wage a people's war on Sinophobia.
https://www.ohchr.org/EN/Issues/Racism/SRRacism/Pages/IndividualComplaints.aspx)
Opinion articles reflect the views of their authors only, not necessarily those of China.org.cn.
If you would like to contribute, please contact us at opinion@china.org.cn.