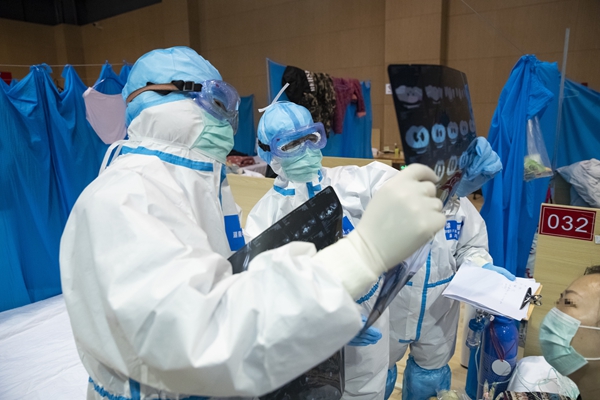 Doctors check a patient's CT image at a temporary hospital in Jiangxia district in Wuhan, central China's Hubei province, Feb. 25, 2020. [Photo/Xinhua]
The sudden, unfortunate outbreak of the new coronavirus disease (COVID-19) beginning in China has caught the world by surprise. It has not only created a medical emergency but also triggered an alarming explosion of Sinophobia and racism, especially in the West.

The usage of racist headlines such as "Chinese virus panda-monium" and "China kids stay home" in the reports by Western media related to the virus seem to have become normal.
All kinds of misleading theories from Chinese people eating wild animals to labeling them as being the virus themselves has become a routine all over social media.
Such a massive flow of biased and flawed information from both social networking platforms and mainstream media has led to a drastic upsurge in groundless prejudice and, in some cases, even violence against the people of China and other East Asian nations.
Such a stigma isn't new. However, the outbreak of this virus, coupled with a plethora of misinformation and growing fear of infection, has made matters worse.
The current climate of discrimination and intolerance in some parts of the world is a stark contrast of what is required in such times. While the struggle against this dangerous virus continues, the least we can do is to try not to succumb to this fear of COVID-19 and remember our moral responsibility as humans.
Despite some negative instances, many people from around the world are still showing their solidarity with China. A lot of people have conveyed their support to the Chinese people in videos online, and many countries across the world have provided practical aid.
It is noteworthy that since the outbreak of COVID-19, China has made "ambitious, agile and aggressive" efforts, according to WHO, to contain the disease, such as building new temporary hospitals, universal body temperature monitoring and masking.
Moreover, it is the Chinese people's collective action and deep commitment that has made such strict measures possible.
Due to such a fighting spirit shown by its people and its steadfast counteracting systems, there has been a gradual decline in the number of newly-confirmed cases along with the further improvement in the rate of recovery.
Despite some positive news, the situation of the COVID-19 is still far from getting over, especially with the expanding number of cases in Japan, South Korea, Italy and Iran in particular.
While we are racing against time to contain the virus, discrimination, misinformation, and racism can only create a much deeper divide among people, thereby causing more harm than good to humanity.
Times are hard and uncertainty grips the world, as the development of the first vaccine to prevent this menacing virus is still months away. Therefore, in the period such as this, it becomes all the more imperative for the international community to get rid of prejudice and take immediate joint actions to contain the virus, so that everyone can come out of this difficult situation together.
Rachana Gupta is a blogger, poet and freelance content writer. She is also the author of the book "To The Horizon We Indeed Sail".
Opinion articles reflect the views of their authors only, not necessarily those of China.org.cn.
If you would like to contribute, please contact us at opinion@china.org.cn.