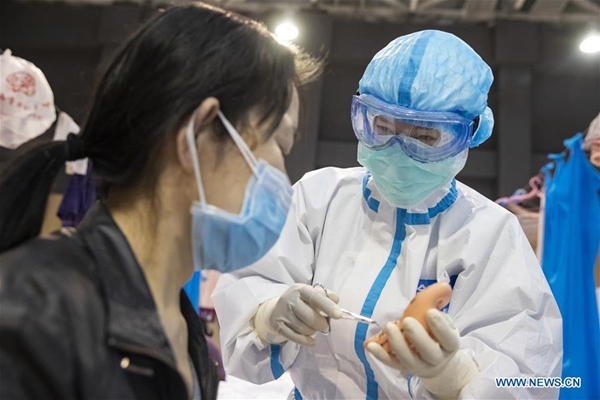 A medical worker treats a patient with traditional Chinese medicine (TCM) therapies at a temporary hospital in Jiangxia District in Wuhan, central China's Hubei Province, Feb. 25, 2020. [Photo/Xinhua]
China's efforts in fighting against the outbreak of the novel coronavirus disease (COVID-19) are admirable. On the frontline, medical workers are working around the clock to provide the best treatment for their patients, and they have shown great courage in the face of hardship. Meanwhile, many ordinary Chinese people are sacrificing their own interests to help contain the virus from spreading further. Such efforts deserve appreciation and gratitude from all countries.
The measures that China has taken to prevent and control COVID-19 are proving to be effective: More and more patients are being discharged from hospital, while new infections are continuing to significantly decrease in Wuhan and across China. Moreover, China has been working closely with the international community to develop possible vaccines. Its endeavors are protecting not only its own people, but also people across the world.
Recently, a China-WHO joint expert team praised China's unprecedented public health responses to the outbreak, and said they have yielded notable results in blocking human-to-human transmission, which has prevented hundreds of thousands of cases. Bruce Aylward, who led the WHO team, pointed out that China's measures have proven effective in curbing the contagious and mysterious disease.
However, the COVID-19 epidemic in other countries appears to be getting serious. A surge of cases have been reported in South Korea, Japan, Iran and Italy. As a result, the WHO have raised their coronavirus threat assessment to its highest level, calling on countries to act quickly to contain the epidemic.
In the face of a worldwide spread of COVID-19, the global community should be ready, and use some of China's experience which, as the WHO says, are the only measures that are currently demonstrated to be effective in combating the virus.
Solidarity and collaboration are of vital importance for countries across the world to curb the common threat of the virus. The international community should act immediately to prevent it from becoming a global pandemic, which would cause enormous health, economic and societal impacts.
Md Enamul Hassan is the China correspondent for the Bangladesh Post.