"Before the COVID-19 outbreak spiraled so quickly in Italy, I was trying to persuade my Italian friends to stock up on face masks and to wear them outside," Zhu Zhu told China.org.cn. "I was sharing my experience of the epidemic prevention and control in China with them, but they argued that experts and the Italian authorities had said people don't need to wear them if they're well. My Italian friends didn't listen to me until March 8,when one of them called to ask if I have any spare masks I could give him."
Picture taken by Zhu Zhu on March 2 at a supermarket in Bergamo in the Lombardy region, one of the hardest hit areas in Italy, shows local people still not wearing masks. [Photo provided to China.org.cn]
Zhu Zhu's hometown is the city of Changsha in Hunan province, located in the southern-central part of China. Having been working in Italy for five years, this year she travelled home on Jan. 15 to see her family, planning to go back to take her driving test after the Chinese New Year holiday. Unexpectedly, these journeys meant she has experienced two rounds of coronavirus outbreaks – both in China and Italy.

"Since I knew that I needed to self-quarantine for two weeks after returning to Italy, I went back earlier I'd originally scheduled in order not to delay my driving license test. At that time, there was no large-scale outbreak in Italy," Zhu Zhu said.
"I flew to Italy, transferring in Bangkok. At the airport in Thailand, almost everyone – including western people – were wearing masks, and we had our temperature checked. On the flight to Milan,most of the passengers were Italians, some wearing masks, some not," she said, recalling her experience of returning to Italy from China on Feb. 3.
"When I arrived at Milan Malpensa Airport on Feb. 3, some passengers took off their masks and the airport staff didn't even measure my temperature. But my friend who arrived in Italy earlier on Jan. 29, said that they had their temperature taken. It seemed that there were no strict temperature checks until after I was back."
For the safety of herself and others, Zhu Zhu, who returned to Bergamo, told her neighbors and the driving school that she had to self-isolate at home for two weeks. "My neighbor said I was overacting," Zhu Zhu said.
During the first few days after returning to Italy, Zhu Zhu was still concerned about the epidemic situation in China. The number of confirmed cases there was rising rapidly in early February, but later the situation was brought under control.
"I was relieved when on Feb. 19 the number of newly cured cases exceeded the number of confirmed cases in China for the first time. My time self-isolating in Italy also ended that day and I went out to the supermarket."
"I saw people jogging, walking their dogs and chatting in bars, as if there were no such thing as the coronavirus in Bergamo. There were almost no precautionary measures or tense atmosphere because by Feb. 19, there were only three confirmed cases in Italy and the patients were all 'imported' cases who were quarantined at hospital in Rome."
Zhu Zhu said she kept trying to persuade her Italian friends to buy masks in advance but they wouldn't listen, believing that masks were unnecessary. "I clearly remember that number seven of the 10 steps published by the Italian Health Ministry was 'wear a mask if you suspect you're ill.' Added to that, there were already not enough stocks at local drugstores."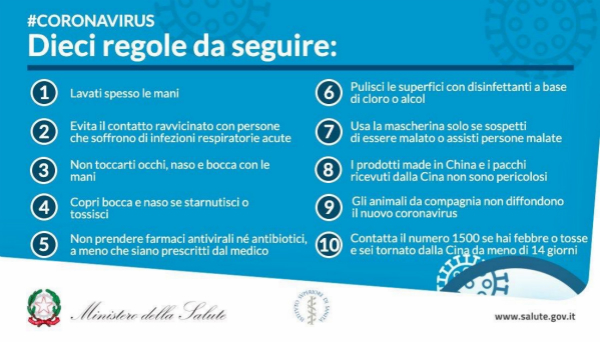 Picture taken from Italian Prime Minister Giuseppe Conte's Twitter account on Feb. 24 shows the 10 steps on coronavirus prevention produced by the Italian health ministry.