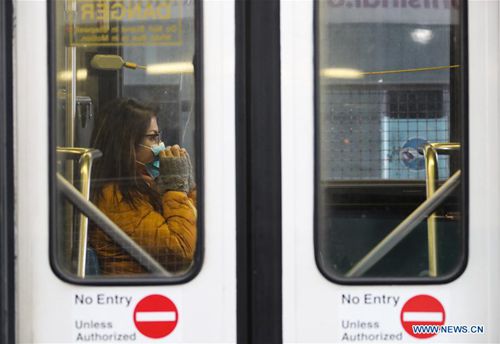 A passenger wearing a face mask is seen on a bus in New York, the United States, March 16, 2020. [Xinhua]
After weeks of denying the problem, the United States has finally begun to act against the spread of the COVID-19. But is this effort too little, too late?
Up until this week, Americans were still crowding into bars, restaurants and country music saloons in Manhattan, Arizona, Nashville, and across the country. President Donald Trump had said that the viral outbreak was "under control" and that it was going to "pass" with no further official action needed.
Trump started to take half measures last week, although his original proposals were more focused on propping up the stock market than on public health. Reportedly he was reluctant to declare a national emergency because he wanted to maintain the fantasy there was no problem.
Only after private entities began putting their operations on hold–particularly the National Basketball Organization, collegiate athletics, and concerts and cultural exhibitions like South by Southwest–was Trump forced into action.
By March 16, according to the U.S. Centers for Disease Control and Prevention(CDC), the number of confirmed cases had increased to above 4,200.
After Trump finally announced a national emergency on March 13, governors and mayors began to take more aggressive measures. The governors of the states of California, New York, New Jersey, Connecticut, Ohio, Illinois, Washington, and Massachusetts all declared that bars and restaurants under their jurisdiction must close. The governor of Colorado closed all ski resorts in a state known for its snow-covered mountains. The CDC recommended people avoid crowds of 50 people or more.
These are all good ideas, and hopefully they will slow the spread of the virus so that it is manageable. Yet, there is a question of whether the situation is already too bad to reverse.
The travel ban on Europe is not doing very much, because there were already many people with the virus in the United States, not to mention many Americans returning from Europe who had it. The virus kept spreading for weeks in February before the first death occurred in the Seattle area. Then, even after the authorities realized the extent of the outbreak, many deluded Americans continued spreading it at public places, as they were unwilling to accept the severity.
Because this virus takes some time to produce any symptoms, there will be a time lag between the closure of public places and the last large-scale batch of cases. Also, because testing capacity was abysmally limited early on, the reported case number was held artificially low for some time. As more and more tests are being done, the number of cases will also increase, although some of those will be existing ones.
Yet, hospitals have a limited number of respirators and ICU beds. According to Dr. Eric Toner, a researcher at Johns Hopkins quoted in an NPR article, "We are not prepared, nor is any place prepared for a Wuhan-like outbreak."
What Americans should do now is to hunker down, take responsibility for their health and the health of those they care for, and prepare for the future.
Mitchell Blatt is a columnist with China.org.cn. For more information please visit:
http://www.china.org.cn/opinion/MitchellBlatt.htm
Opinion articles reflect the views of their authors, not necessarily those of China.org.cn.
If you would like to contribute, please contact us at opinion@china.org.cn.