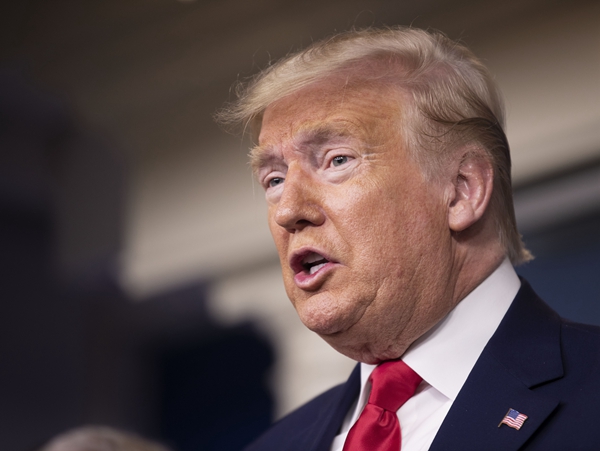 On March 19, U.S. President Donald Trump stood in the White House to give yet another statement about the novel coronavirus (COVID-19). A photograph of the president's speech notes showed the word "Corona" scratched out and replaced with "Chinese" written in sharpie.

The photo, taken by a Washington Post reporter, exposes how factually inaccurate Trump's racist language is. Rather than informing the public with scientifically accurate information, Trump is policing language in order to create a political distraction and cover up his own mishandling of the epidemic.
This made-up language also happens to carry racist undertones and has the result of exacerbating discrimination and assaults against Asian Americans, as well as Asians the world over.
There are widespread examples of racist assaults against Asians around the world. Asians have been called "viruses," denied lodging, and even physically assaulted. At two separate hotels in Indiana, USA, Americans of Hmong descent were kicked out because of their race. At Sheffield University in the U.K., a Chinese student was attacked for wearing a mask. Meanwhile, a South Korean student in New York City was punched in the face for not wearing a mask. There are more than enough cases to demonstrate that racism against Asians is a huge problem.
Donald Trump's choice, along with that of other politicians, to now refer to the novel coronavirus as the "Chinese virus" is only going to make the problem worse. The phrase makes the false assertion that the virus is somehow connected to the Chinese people. This, after all, is the underlying impulse for the string of racist attacks.
Notice that most of the examples don't even involve Chinese people, let alone people of Chinese descent. Many of the victims are Americans. So, calling the virus "Chinese" doesn't even limit the racism to Chinese people; it targets everyone who appears to be Asian.
Chinese people have nothing to do with the virus, so why use such a qualifier? There are less than 7,000 existing cases in China now, compared with over 20,000 in the United States. This was a real turnaround. The policies China took to close public places and quarantine arriving passengers and returnees were effective at preventing the spread of the virus. Now that restaurants are starting to open back up is a sign of that success.
Nor is there precedent for using a location-based qualifier to refer to a pandemic. H1N1 swine flu was not referred to as "North American Flu." Ebola was named after a river when it was discovered in 1976, but not a country. MERS does include a region, not a country, in its full name, but it is typically referred to by its acronym.
Steven Taylor, author of Psychology of Pandemics, pointed out in an interview with The Hill, that other pandemics throughout history have often led to racist and xenophobic responses and that leaders should try to clamp down on racism. "Our leaders need to be transparent," he said, "they need to maintain public trust, and they need to offer advice about things like racism and need to lead by example – to send out a consistent message that racism is not an acceptable or sane way of dealing with this problem."
Unfortunately, Donald Trump, from the start, has downplayed the seriousness of the crisis. In January, he said it wouldn't become a pandemic, because "we have it totally under control." Throughout February, he said it was no more dangerous than the flu. He referred to news articles and opposition politicians who warned about the virus as being part of a "hoax."
Trump's leadership, unfortunately, has been focused on trying to solve his own political problems. Early on, he thought that if people were concerned about the COVID-19, they would blame him and that the markets would be hurt. That is why, when he finally got around to treating COVID-19 as a minor problem, his proposal was to cut taxes; he prioritized the health of the markets over public health. Unfortunately, downplaying the problem didn't make it go away; it only made the virus spread faster.
So, 14,000 cases later, Trump has taken to blame-shifting with "Chinese." Early on, Trump was praising China. So, what has changed since February? The severity of America's COVID-19 epidemic. Trump is trying to do two things: First, put the blame on a foreign country. Second, smear any American who criticizes his response.
But blaming China does not excuse Trump. China did not prevent the United States from accepting testing kits from the World Health Organization. China didn't lie about the lack of testing kits in the USA. China didn't cause the number of cases in America to be underreported for weeks so that, by the time the first death occurred, Seattle, Washington was already a hot zone.
Trump credits himself with blocking travel from China on February 2. But Canada did not block travel, and as of March 21 had 1,200 coronavirus cases, compared to 24,200 in the United States. That means either that travel bans don't work, as I argued, or that the Trump administration's domestic policies for combating the virus have been even more unsuccessful.
Early on, Chinese local authorities did make mistakes in Wuhan. On March 19, the Wuhan Public Security Bureau admitted responsibility for the mishandling of the case of Dr. Li Wenliang, and announced its officers would face reprimands. But pointing to other country's missteps doesn't excuse America's or those of any other country. By the end of January, the world knew very well that the novel coronavirus was a problem that could spread internationally. The World Health Organization declared a global health emergency on January 31. Trump's domestic policies towards the novel coronavirus were not stifled at all by China's words or actions. As late as March 7, Trump was still refusing to take the novel coronavirus seriously. "No, I'm not concerned at all. No, we've done a great job with it," he said.
Trump is making a disingenuous attack to defend himself against accusations of his own mishandling of a crisis, a disingenuous attack for which Asians are the collateral damage. But Americans are better than this. If we remain focused on combating COVID-19 and not scapegoating other people, we can get through this.
Mitchell Blatt is a columnist with China.org.cn. For more information please visit:
http://www.china.org.cn/opinion/MitchellBlatt.htm
Opinion articles reflect the views of their authors, not necessarily those of China.org.cn.
If you would like to contribute, please contact us at opinion@china.org.cn.