Two Austrian Airlines planes from Xiamen, a coastal city in southeastern China, arrived in Vienna carrying more than 130 tons of medical equipment on March 23. Austrian President Alexander Van der Bellen posted a tweet thanking China for its support in his country's fight against COVID-19.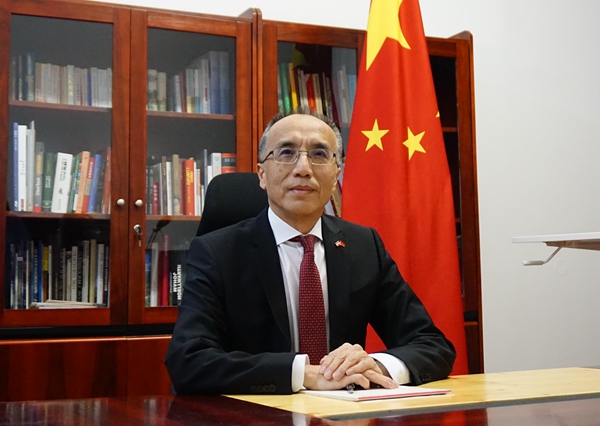 Chinese Ambassador to Austria Li Xiaosi [Photo provided to China.org.cn]
"Austria gave precious support to China at a critical moment in its own fight against COVID-19," Chinese Ambassador to Austria Li Xiaosi said in an exclusive interview with China.org.cn on the same day.
"As the number of cases in Austria increases rapidly, Chinese State Councilor and Foreign Minister Wang Yi sent a letter to Austrian Foreign Minister Alexander Schallenberg saying China would like to share information and experiences on medical treatment as well as prevention and control of the epidemic, and offer possible assistance to Austria," he said.
"It fully reflects the traditional friendship between the Chinese and Austrian people," Li added.
The number of confirmed cases of coronavirus infection in Austria exceeded 5,000 on Tuesday with 28 deaths reported, according to local health authorities. The government has imposed border restrictions all over the country as part of a series of drastic measures to contain the outbreak.
"Austria has extended controls from its borders with Germany, Italy, Switzerland and Liechtenstein to Hungary and Slovenia from last Friday, " Li said.
"As the virus continues to spread in Austria, we care about the safety and health of overseas compatriots, students and Chinese-funded enterprises. For them, the motherland is always a strong supporter. The Chinese embassy in Austria will always be with them through the hard times," he added.
Recently, some elements in the U.S. have been deliberately blaming the epidemic on China and trying to stigmatize China's efforts in an attempt to shirk responsibility.
They have ignored the huge sacrifices the Chinese people made in safeguarding the health and safety of all humanity, and vilified China's significant contributions to global public health security.
"Their moves run counter to the WHO's professional advice and the expectations and efforts of the international community to fight the pandemic together. The U.S. should immediately stop politicizing the pandemic, stigmatizing China and denigrating other countries. It should focus on putting its own house in order and play a constructive role in the global combat against the pandemic and safeguarding global public health security," Li said.
"The virus knows no borders. It is a common challenge for humanity," said Li Xiaosi, "Only through unity, mutual assistance and joint efforts can we win the fight against this pandemic."
"With the vision of a community with a shared future for all humanity, countries should strengthen communications and cooperation and jointly address the challenges with all-out efforts to safeguard global public health security," the Ambassador concluded.