Editor's notes: China's Certified Data Analyst (CDA) Data Science Research Institute and Tsingyan Research have released their lists of industries most affected by the COVID-19 epidemic.
Zhang Jiahui, a researcher for the leading think tank and integrative high-tech enterprise Tsingyan Research, said her team found the epidemic will seriously affect the economy and people's lives.
"First, it's the separation of human and capital, resulting in short-term production disruption," she said. "A number of labor-intensive companies choose to delay the resumption of work and production, which has caused a structural imbalance between production and supply."
Other impacts include, regional lockdowns causing a loss of economic efficiency; residents staying at home, causing consumption to slow; international concerns causing declining imports and exports; and investors avoiding risks, resulting in insufficient market cash flows.
CDA Data Science Research Institute said in its report that in the short term, the epidemic is like "a pulse, which significantly impacts the economic rhythm;" but in the long run, the epidemic is also like "a wave in the ocean of history, and time will heal everything."
Since the outbreak, China has invested huge amounts of money, resources, strategies and policies, so that the damages and risks are under control. While the epidemic may be a war without smoke for individuals, enterprises and countries, everyone can find a way out.
1. International trade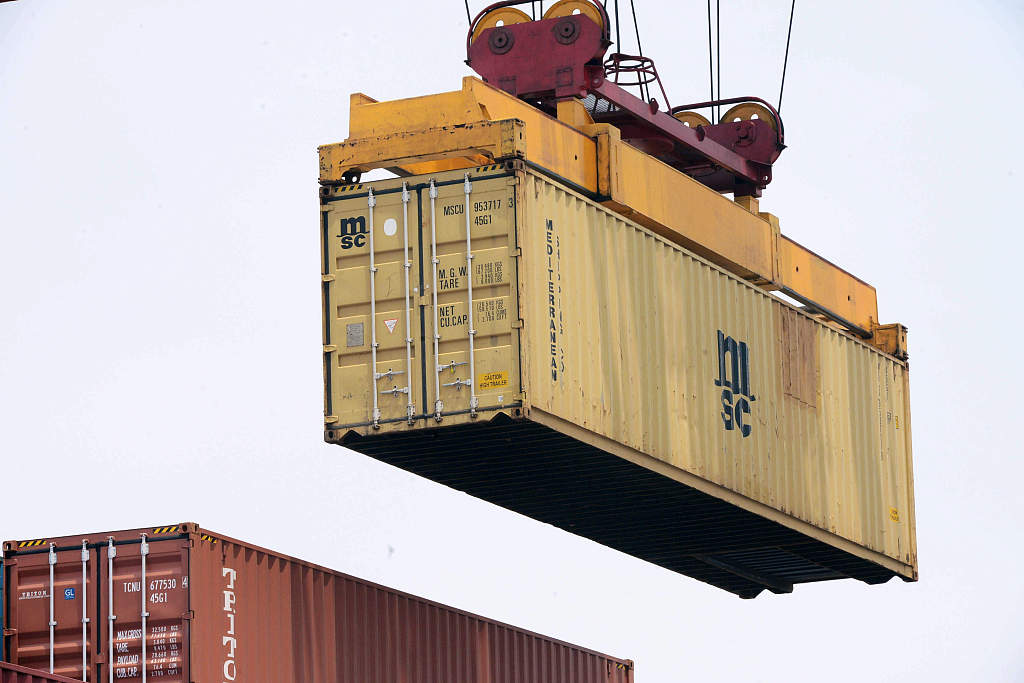 A foreign trade container being put on board of a cargo ship at the Port of Qingdao, Shandong province in an undated photo. [Photo/VCG]
China is the world's largest exporter and its economy plays an important role in the global supply chain. Meanwhile, exports are central to China's economic development. When the World Health Organization declared that the situation had become a pandemic, imports and exports were impacted. For example, China introduced measures for all goods to be sterilized or inspected upon entering or leaving the country, which meant that the cost and difficulty of international trade increased.
Meanwhile, some countries may consider reducing or suspending the import of certain merchandise, deliveries are difficult, and workers' wages still have to be paid, which all pose new challenges to the operation of enterprises.
While China starts the resumption of work and production, the virus has spread around the globe and shuts down many countries as well as businesses. Industry insiders describe the situation with a joke: "China fought the first half, the world fights the second half, but the international trade industry fights all the time."