Wearing a face mask, Weiwei rubbed her 38-week pregnant belly while sat in the hallway outside her gynecologist's office in Dayton, Ohio in the United States. She was waiting for her prenatal care checkup which is the final step before her cesarean section (C-section).

"A member of staff at the hospital took my temperature at the entrance today. That's totally new, it didn't happen last week," Weiwei worried. "I'm having my baby next week and the number of novel coronavirus cases keeps increasing in the U.S. I'm terrified to be in hospital surrounded by people without masks and random visitors potentially bringing in the virus."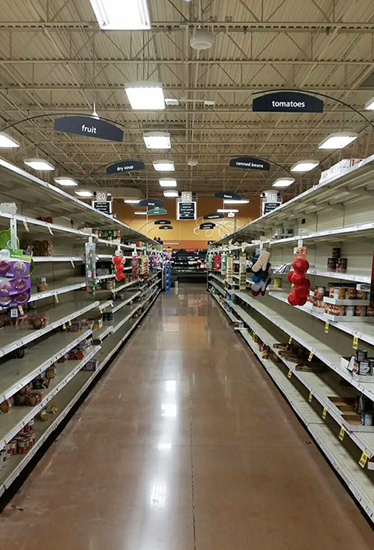 Photo taken on March 13, 2020 shows empty shelves at a supermarket in Dayton, Ohio. Due to the coronavirus outbreak, people in the U.S. have rushed to stock up on food and daily necessities at grocery stores. [Photo provided to China.org.cn]
Ohio closed all bars and restaurants from 9 p.m. on March 15, making the state one of the first to impose such restrictions. According to statistics from Johns Hopkins University, as of March 26, a total of 567 novel coronavirus cases have been confirmed in Ohio. In addition, over 60,000 cases have been confirmed nationwide by then, with the death toll surpassing 800 across the country.
On Friday, March 20, when Weiwei went for her prenatal checkup at the hospital, hand sanitizer, disposable masks and gloves were finally available at the entrance to the building. She explained, "Not everyone who entered into the hospital took the masks and put them on. And there were no mandatory orders telling people to wear masks in public spaces. Luckily, the obstetrics and gynecology department is in a separate building from the emergency room and has a separate elevator from other departments." She added, "Hopefully, that'll help me and my baby avoid the risk of getting an infection from the hospital."
She initially tried buying face masks and hand sanitizer after the governor of Ohio declared a state of emergency and recommended people avoid large crowds on March 9, but found the items were all out of stock. "I know that there are confirmed novel coronavirus cases in the area, but I'm not sure which hospital they're quarantined in. Ohio is one of the states that acted quickly during the outbreak, but I'm still very scared. We only have two N95 masks left, so I asked friends back in China to send some regular and baby masks for us via express delivery."
Weiwei went to the U.S. with her husband in 2010 for their careers. She became pregnant last year and was excited. However, after she found out that she and her baby were not eligible for a natural birth, she started to get a little worried. As the coronavirus spread quickly across the U.S., she then started to panic. "I wasn't this panicked until we went to the grocery store last week. I was laughing at those people on TV fighting over toilet paper in New York. But when we got to our usual store, the shelves were empty. There were no paper towels, no toilet paper, no facial tissues, no eggs and no milk."
Photo taken on March 13, 2020 shows empty refrigerators for dairy products at a supermarket in Dayton, Ohio. Signs stuck on the refrigerators read, "Due to high demand, supply is extremely limited from our suppliers." [Photo provided to China.org.cn]
"We have to get up early to go to the store, and arrive before they open. They've restocked daily necessities now, but only limited numbers of products are available. If we get there at noon, all that's left are flavors no one wants, or lots of the same product," Weiwei added. She also tried shopping online via supermarket websites, but many products were out of stock there too. Shopping on Amazon usually means items will be delivered to your door in less than 24 hours, but now, even for those who have Prime membership, items are arriving one or two days late.
"It looks like everything is slowing down and all plans are being rescheduled now. I haven't received my masks because the outbreak means express deliveries have been slowed down. My parents were also originally planning to fly from China to visit us and see our newborn, but they've had to reschedule everything." Sounding worried, Weiwei added, "My parents keep saying that the situation will get better. My mum never doubts it and keeps saying 'We locked down the communities for just a few weeks, and the new cases gradually dropped to zero across the city.' They seem pretty confident about it, but I just hope that my C-section goes well, without anyone getting infected by the coronavirus."