The international community should enhance solidarity, communication, and cooperation, so that all the parties can contribute wisdom and solutions in fighting COVID-19, said Du Zhanyuan, president of the China International Publishing Group (CIPG), on Monday in Beijing.

He was speaking at the "Contemporary China and World: International Think Tank Webinar on Combating COVID-19" sponsored by the CIPG.
"In the face of a pandemic, we need global solidarity and cooperation more than ever, because no one can be an outsider and no country can stay out of it," Du said.
An extraordinary virtual G20 leaders' summit on fighting COVID-19 was held on March 26. Based on China's experience in combatting the disease, Chinese President Xi Jinping put forward four proposals on strengthening international cooperation and stabilizing the world economy. Du said the proposals have won extensive support from the international community.
Du called the virus the common enemy of mankind, and pointed out that fighting the virus is not only the responsibility of national governments, but also requires the support of all sectors of society, especially the proactive participation of ordinary people.
He said think tanks are duty-bound to be part of the anti-epidemic efforts. Experts and scholars from think tanks should do more research on the proposals put forward at the summit, actively voice their opinion, and contribute wisdom and solutions for international cooperation in fighting the outbreak.
"The virus doesn't have a country name, and respects no borders." He said that, at this critical moment when the world is faced with a common threat, think tanks need to work together to call on all countries to put aside differences, build consensus, strengthen cooperation, and help one another.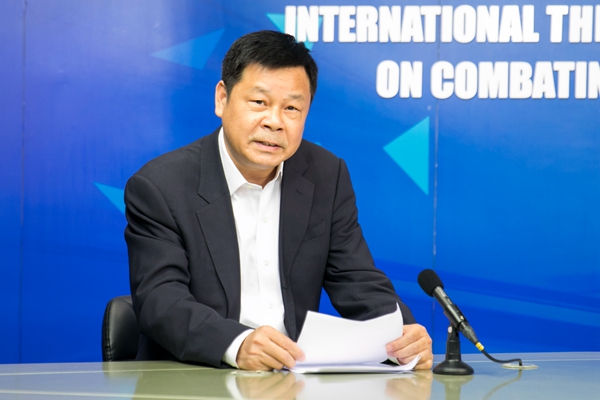 Du Zhanyuan, president of China International Publishing Group, delivers the opening remarks at the "Contemporary China and World: International Think Tank Webinar on Combating COVID-19" on March 30, 2020. [Photo by Dong Ning/China.org.cn]
"We need to uphold the vision of building a community with a shared future for mankind, oppose the practices of stigmatizing and politicizing the disease, and refrain from using the disease as a weapon for political maneuvering." Du suggested that the international community needs to take more efficient actions, care for the life of each and every person in the world, and especially help vulnerable countries and groups of people.
"In the face of a common challenge, what we need is wisdom, not political calculation; what we need is to help each other, not to take advantage of others' difficulties; and what we need is win-win cooperation, not lose-lose competition," he said.
Du said he believes the pandemic will eventually end and become a page in history, and what the world needs is to draw lessons from history. To this end, he said that think tanks of various countries should make use of their own strengths, and focus on important topics facing mankind. The CIPG president named such topics as building a global prevention and control system to ensure public health security, improving post-pandemic global governance system, the prospects of internet-based work, and protecting the climate, the environment, and biodiversity. He said think tanks should carry out joint research in a relatively systematic manner, address major problems together, and pool global wisdom to seek solutions.
He also called for the establishment of a global platform for think tank exchange and cooperation, especially to strengthen the building of knowledge sharing platforms. Not long ago, China set up its online COVID-19 knowledge center, which is open to all countries and has been warmly welcomed by all parties. The CIPG also published multilingual books like "Keywords to Understand China: The Fight Against COVID-19," "China's Battle Against the Coronavirus: A Diary Log," and "China, We Stand with You" to share information with other countries on China's measures, experience, and stories in fighting the epidemic, Du said.
Du said that this was the first time for the CIPG to organize an international think tank forum in the form of a video conference. It showed the readiness and willingness of Chinese and foreign think tank experts to strengthen dialogue and cooperation as the virus spreads in the world.
A number of experts and scholars from China, Spain, France, Brazil, Pakistan, and Egypt attended the webinar, which had the theme of "Pooling Wisdom and Sharing Experience: Joint Efforts to Fight COVID-19."
The event was sponsored by the CIPG, and organized by the Academy of Contemporary China and World Studies, China.org.cn, China Today, and Bosheng International Cultural Communication Co., Ltd.