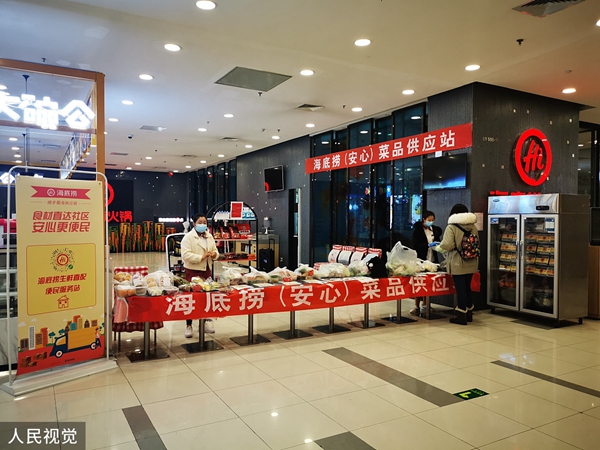 The popular hotpot chain Haidilao has reopened its doors, but customers have been surprised by the rise in prices. The company now finds itself the subject of a debate about whether price hikes are the best way to break out of the survival crisis triggered by the COVID-19 epidemic.

On Jan. 26, Haidilao closed its 600 restaurants nationwide and started to reopen them on March 12. Customers have since returned, but have been put off by the prices.
The price hike generated online controversy, with many internet users stating that they would stop eating at the restaurant if it raised its prices.
Following customer complaints, a representative of Haidilao told the media that the price hike would be limited to within 6% of pre-epidemic prices. "We will keep the price raise range at no more than 6%. Individual outlets can decide on their own how much they raise the prices according to their local situation," he said.
Even though restaurants have reopened, the authorities have maintained strict limits on the number of people restaurants can seat at any given time. Haidilao has countered this by offering a 15% to 31% discount for customers choosing to order online.
China Securities Co. estimates that COVID-19 will result in a 5.04 billion yuan ($716 million) loss for Haidilao.
Haidilao is not the only chain to hike its price. Xibei, a leading noodle restaurant chain, also raised the prices of its dishes.
China's catering industry suffered heavy losses due to nearly all restaurants shutting down during the epidemic - a period that is normally the most profitable season of the year: China's Spring Festival. Evergrande Research Institute estimated the Chinese catering industry would have lost 500 billion yuan in retail sales during the holiday.
Many restaurants prepared large food stocks for Spring Festival, but later had to put the stocks out for sale at low prices. At the same time, more and more restaurants launched take-away services, and waiters were assigned to do logistics and delivery work.
"Almost all of our 400 stores were closed due to the epidemic, and we estimated the monthly losses around the Spring Festival would be at around 700 million to 800 million yuan," said Jia Guolong, chairman and founder of Xibei.
According to statistics from China's National Bureau of Statistics on March 16, catering sales plunged by 43.1% during the first two months of the year.
A report released by the China Chain Store & Franchise Association (CCFA), found that since March 1, 2020, 5% of sampled companies have no cash to support their operations; 79% cannot continue for another 3 months; and only 16% have cash reserves that can sustain them for more than 6 months.
It seems the price hike reflects the grim prospect for restaurants in near future. But it may not be the only way.
Just as Haidilao announced the price increase, McDonald's launched a Monday half-price package for members. On April 6, so many customers flocked to grab the deal that they crashed its app.
Jiang Zezhong, a professor at the Capital University of Economics and Business, said: "On the basis of rising costs such as raw materials, companies can increase prices appropriately, and should even maintain the original prices to gain consumer recognition and increase market size." He believed that with the work and production resumption of the enterprises, market consumption will rebound, and the intensity would be very strong. "This is a good time for a company to increase brand awareness and customer loyalty. Price adjustment will obviously damage consumer enthusiasm and brand recognition."
Mo Yuanming, a researcher at Chongqing Technology and Business University, believed that price increases are a double-edged sword. "The advantage lies in digesting costs through price increases, which can quickly overcome difficulties, and restore normal business order. The disadvantages are that, affected by the epidemic, citizens' consumption power declines, so price hikes may lead citizens to hold onto their wallets and eat out less, which will exacerbate the problems of the catering industry," he said.
Mo suggested that the price hikes in the catering industry must fully weigh the interests of itself, the market and consumers. He also pointed out that the government's policy regulation and guidance will play a role in boosting consumer confidence and help the catering industry to overcome difficulties.
Haidilao has already been a beneficiary of aid from financial sector. In February, China CITIC Bank Beijing branch and Baixin Bank provided 2.1 billion yuan in credit funds for Haidilao.