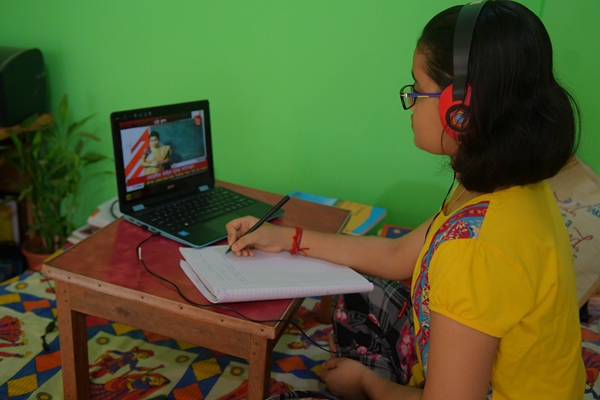 A student attends online class at home during a nationwide lockdown in Agartala, India's northeastern state of Tripura, April 20, 2020. [Photo/Xinhua]
The COVID-19 pandemic continues to cause uncertainty and tension around the world, and worse, there is little evidence to show that the crisis is close to over. Various measures have been adopted by governments to keep the society running, and among them, online cloud-based services and activities become mainstream. While practicing social distancing, employees struggle to manage their work remotely, graduates are able to attend oral defense online, personal trainers turn to virtual instruction as an alternative, and even art institutions provide virtual tours for a new audience.

In reality, while for some, the online mode is convenient and can save commuting costs, many complain that remote work could give rise to inefficiency and low-productivity. For instance, some parents find it challenging to handle a work-and-life balance while looking after their kids all day, who need to stay at home and attend online classes.
Moreover, the ongoing COVID-19 pandemic has impacted more than 1 billion students around the world, and they have been taking online courses at home due to school closures. Many teachers are unprepared because of limited technical expertise and experience of online instruction, and students become shy and reluctant to speak up in front of a camera, let alone speak naturally. Unlike office workers who are proficient in computer-based tasks using the internet, the virtual mode proves to be more problematic for teachers and students; the clumsiness makes online learning experiences far less effective as compared to traditional face-to-face modes of education.
All the same, the unexpected global pandemic has eclipsed brick-and-mortar classes and accelerated educational digitalization on an unprecedented scale. It is, therefore, time to ponder, if all technical and mental barriers are eliminated, can entire education be given online?
Few would disagree that education is more than what's on the blackboard, and school is not just a platform for knowledge. Children in preschool, for example, could learn valuable social skills by playing numerous games with friends of their age, which are otherwise difficult to acquire at home, and become more aware of their surroundings; more importantly, this means a transition from home to a new environment.
The same applies to college students. Although it could be argued that literature majors and the like do not find traditional face-to-face instruction useful and efficient, the university is arguably one of the best platforms where students could broaden their horizons, foster critical thinking, and improve career prospects through various interactive activities.
Meanwhile, offline school education includes in-person training and every-day practice. In China, vocational training for all (including degree students) has been prioritized in recent years, which is regarded as a revolutionary attempt in tertiary education. According to a previous report, the Ministry of Education announced a pilot plan in 2019, which encourages an integration between education and industry. Universities are encouraged to cooperate with companies, for example, co-establish training centers, which allow college students to work together with technicians and experts. The attempt is a true test of knowledge and theory learned in classes, and students could be engaged in practical work and activities directly after graduation.
The interactive learning experiences, however, can hardly be acquired through online platforms. Virtual instruction makes it troublesome, if not impossible, for practice-based training and communication, which is essential for both personal and national development.
On the other hand, with a potential internet economy, IT-based learning has indeed risen to prominence in China. The online education market is undoubtedly huge, for millions of Chinese students and increasingly fierce peer competition. As estimated from a report, the number of learners enrolled in online education in China is expected to grow to 263.8 million in 2022.
Compared with traditional education, the internet acts as a better platform with quality teachers and courses, which makes location no longer an obstacle. Learners can learn with a flexible schedule and environment and improve time management skills, for they can save much time in commuting and unnecessary social activities. Also, quite a few students take delight in online courses where they could learn at their own pace, feel less pressure, and enjoy more freedom when classes are migrated online.
At the current stage, online tutoring classes, it is argued, are becoming a supplement to face-to-face instruction. What is noted, AI-related education initiatives are proposed and put into wide practice in China, as AI could work as a teaching assistant to create better learning experiences for students. As such, when both parents and teachers are unavailable, students could concentrate and study as usual.
The coronavirus pandemic disrupts the status quo and causes great inconvenience to traditional schooling. Notwithstanding, it tells us that we should not take the current educational system for granted. No one knows if online education will become the next frontier. Yet, right now, e-learning is an important sub-sector in the education industry and satisfy the complementary needs of learning. After all, education is more than schooling, and regardless of forms, a more agreeable study environment with diverse learning experiences is the essence of education.
Mathew Wong is an assistant professor in the Department of Social Sciences at the Education University of Hong Kong.
Opinion articles reflect the views of their authors, not necessarily those of China.org.cn.
If you would like to contribute, please contact us at opinion@china.org.cn.