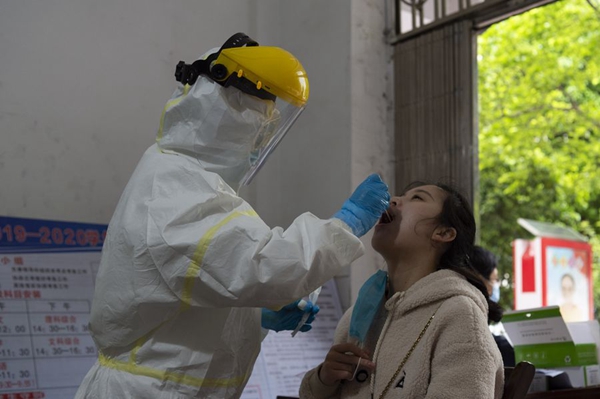 A worker in protective suit collects a swab from a teacher for nucleic acid test in Fancheng district of Xiangyang city, central China's Hubei province, April 18, 2020. [Photo/Xinhua]
The authorities in Wuhan, Hubei province, have rolled out a new round of mass testing covering the city's entire population after a recent cluster of novel coronavirus infections.
On Thursday, residents from a number of districts in the city, the hardest hit in China by the outbreak, were seen lining up at designated areas-each standing meters apart-to receive nucleic acid tests.
In Dongxihu district, where six locally transmitted infections were reported over the weekend, government employees began setting up testing facilities early on Wednesday and were guiding residents to take tests in the afternoon, the district's urban management commission said on Thursday.
In Qiaokou district's Liujiao community, 1,000 residents took tests on Wednesday.
"Our residents are very supportive. We aim at leaving nobody out of the screening," Wang Kaiqi, the community's Party secretary, told Hubei Television.
Yao Hanhua, Party secretary of Qiaokou's Shuichang community, said the mass campaign will enable officials to understand the true scale of undetected infections in each area. "The results will help us take more targeted epidemic control measures," he told Hubei Television.
Wuhan added one new domestic case involving an 89-year-old man on Saturday, the first such case in 35 days. On Sunday, his wife and four other residents of the same neighborhood were found to be infected.
Health experts said the source of new infections came from "past community transmission", according to the city's health commission.
No new confirmed cases have been reported in Wuhan since then, but the city has continued to register new asymptomatic cases.
On Monday, the city's epidemic prevention and control command center released a notice requiring the mass testing campaign be completed within 10 days, and to prioritize key populations and areas, and focus on old or densely populated neighborhoods and those with large mobile populations.
The magnitude of the campaign is unprecedented. During the outbreak's peak, Wuhan rolled out two campaigns to screen the entire city for confirmed and suspected cases, people with fever and close contacts.
After outbound travel restrictions were lifted on April 8, Wuhan completed 275,400 nucleic acid tests within a week, targeting people who intended to resume work or leave the city, and 182 of them were found to be asymptomatic.
Wuhan also rolled out an epidemiologic survey that conducted nucleic acid and antibody tests on 11,000 residents in mid-April. The survey was part of a nationwide effort to evaluate the scale of infections in nine provincial-level regions.