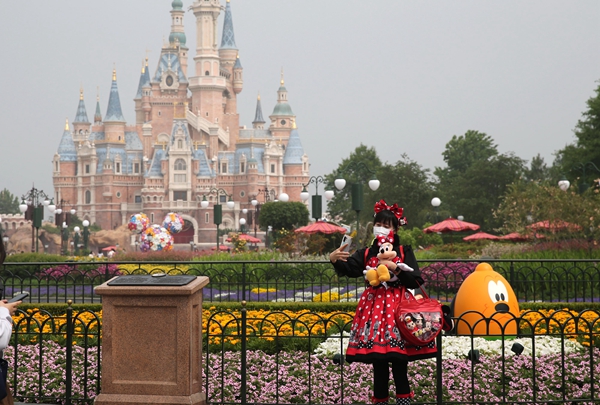 A tourist takes a selfie inside the Shanghai Disneyland theme park in east China's Shanghai, May 11, 2020. [Photo/Xinhua]
White House trade advisor Peter Navarro is outraged that Shanghai Disneyland is open. It's the first Disney resort in the world to reopen, and it is taking precautions, operating at 30% capacity, to decrease the chances of a flare up.

"It crossed me that Disneyland in Shanghai is opening this morning, while my own Disneyland in my own homeland in Orange County, in Anaheim, ... That makes me mad," Navarro said.
Why is an economist who has been negotiating with China so outraged about Disneyland opening up? He's advocating for the same thing in America. Is it jealousy?
Although (or perhaps because), I am not a White House advisor, I believe I might have an answer for Navarro. It could be because China has adopted aggressive policies to cut down the spread of coronavirus, and the U.S. hasn't. It could be because China has had less than 5,000 new cases materialize since March 1, while the U.S. has had over 1.4 million cases since then. California, where Disneyland is located, has had over 73,000 cases, almost as many as China has had in the whole country, and Los Angeles has had half of all cases in California.
But the Trump administration and Republican supporters of Trump want to "open up" the economy even though new cases continue to increase by about 20,000 per day. They seem to think they can just bypass the whole part about getting rid of coronavirus first.
Instead of a coordinated response, the U.S. was left with a patchwork of half-measures enacted by states and localities in March and April. The federal government largely relinquished its duty to protect Americans. President Trump said that the government under his management would be the "supplier of last resort," and his son-in-law, whom Trump put in charge of the coronavirus response, said that the federal stockpile of equipment "is not supposed to be states' stockpiles that they used."
Some states have had to rely on China and South Korea to obtain the necessary equipment. Massachusetts, with the help of the New England Patriots' team plane, flew about 2 million N95 masks back from China. Maryland bought 500,000 tests from the South Korean government. Illinois Governor J.B. Pritzker paid for "secret" flights to China with his own $3 billion fortune in order to avoid his state's medical gear being seized by the federal government. There has been no plan for mass testing, no effort to trace contacts of people who got infected, and those who are infected are not even required to be quarantined.
But despite it all, the half-measures have had some effect. The number of new cases reported in the U.S. hit a plateau in April, and the seven-day average appears to have been decreasing since the last week of April. That means 20,000 new cases per day instead of 30,000 in April. The number of total cases continues to increase.
And yet 38 of the 50 states are already starting to allow closed businesses to reopen. Sixteen of those states have already permitted restaurants to resume service. That's dangerous at a time when coronavirus continues to spread around communities.
One person in South Korea, where coronavirus was mostly wiped out, spread coronavirus to a hundred or so others while club-hopping in Itaewon. Now in America, where the number of infected people is much higher, the chances are even higher that mass spread events will take place. A significant amount, albeit a minority, of Americans even refuse to wear masks.
It won't help the economy, either, to open up too soon. If restaurants start opening, smart people will still stay home; when the virus begins spreading at restaurants, they might have to shut down again.
All of this is to say that Peter Navarro's desire to see Disneyland open in his hometown is irrational. But it's not surprising, coming from someone who has been a strong supporter of the administration's trade war. His idea that it is a problem that America, a wealthy consumption-driven economy, has a trade deficit with a single country is just as irrational. He's been spending the past two years negotiating, and all his team had to show for it was a "deal" that was only a partial return to the status quo.
If he's angry that China is opening up faster than America, then it's no wonder he thinks trade is a zero-sum game. This is not the man who should be making American trade policy. Even less, should anyone listen to him on the issue of coronavirus.
Mitchell Blatt is a columnist with China.org.cn. For more information please visit:
http://www.china.org.cn/opinion/MitchellBlatt.htm
Opinion articles reflect the views of their authors, not necessarily those of China.org.cn.
If you would like to contribute, please contact us at opinion@china.org.cn.