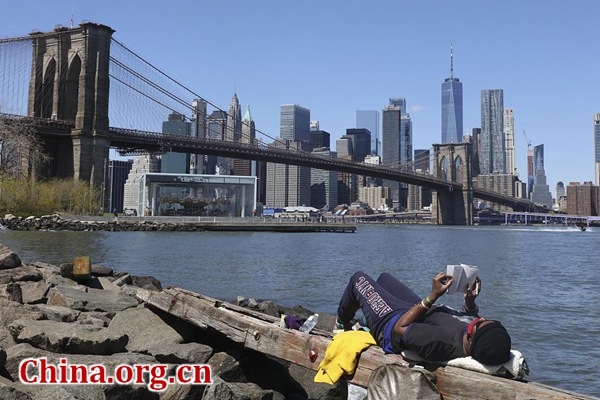 A citizen, wearing a mask, reads a book near Brooklyn Bridge in New York, April 28, 2020. [Photo/VCG]
As New York became the hardest-hit state in the U.S. during the COVID-19 pandemic, some people fled, while others gradually got used to the new normal.

Mei Tianli, 23, a Chinese student who studies in New York City, returned to her hometown of Guangzhou, China on March 15. "My university canceled all my classes, and my family were worried about me. Also, I'm not a good cook, so I thought, 'why don't I just go back to China? '"
On her way home, she wore a protective suit and mask, and refused to eat during the flight. Upon her return to China, she was put into 14-day quarantine.
Before leaving, she hung out with friends in SoHo, Manhattan and saw many people out shopping in NYC. Mei didn't expect the situation to spiral out of control, and she was not the only one who didn't sense the danger of the pandemic.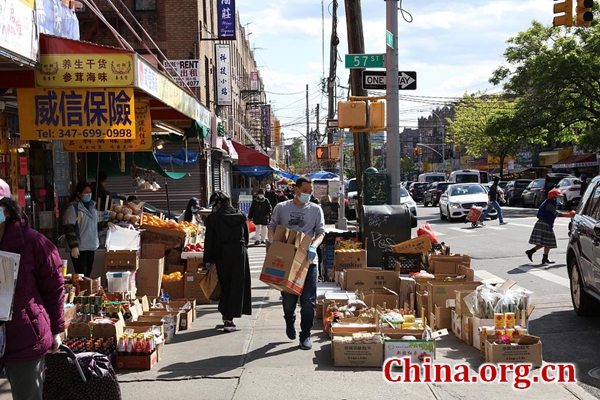 Vendors reopen for business at Eighth Avenue in Brooklyn, New York City, May 12, 2020. [Photo/VCG]
Mark Fleming, a New Yorker and public relations consultant said, "At first I didn't think much about it; I thought it was just another regional illness that would fade away."
New York State had reported over 356,200 cases and 28,302 deaths as of Monday evening, according to statistics from the local authorities and health agencies.
"It is difficult not going outside or having company, but I am making the most of the situation. I still see my children on weekends and occasionally my girlfriend," Fleming said.
Every day, Fleming participates in the daily applause for frontline healthcare workers. "Sadly, eight people who lived in my building in Washington Heights have died, including a lovely old lady whom I always said hello to."