Yiwu, a city in east China's Zhejiang province and one of the barometers for the health of the nation's exports, is experiencing the brunt of the economic impact from the ongoing COVID-19 pandemic.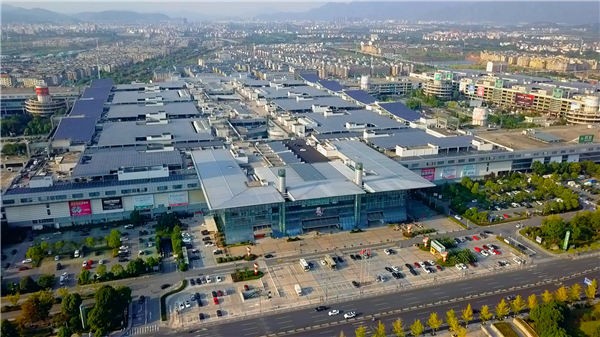 A bird's-eye view of the Yiwu International Trade City. [Photo/China Daily New Media Center]
Recent data from Yiwu's customs authority shows that the city's export value decreased by 14.7% year on year in the first quarter, with the total import and export value down by 13.3%.

Yiwu is home to the Yiwu International Trade City, the world's largest small commodity trade hub that has more than 70,000 tenants on a massive complex of over 4.7 million square meters. As the pandemic swept across the globe, businesses in the market complex began to face a significant lack of demand since April.
Like many other small, medium and micro enterprises (SMEs) that mainly sell to overseas customers in Yiwu, Wang Minfeng's hardware company is searching for ways to survive the difficult period.
Wang opened up his tools and hardware business even before the Yiwu International Trade City was established in 2001. He had gone through the SARS outbreak in 2003 as well as the 2008 global financial crisis, but neither to him could compare to the impact of COVID-19.
"We faced challenges from the domestic supply side at the beginning, and now difficulties from the overseas demand side," he said. "This year could be the hardest for foreign trade companies to survive."
Continuous difficulties
Yiwu reopened market relatively early, on Feb. 18, while implementing strict measures. To facilitate work resumption, the local government sent out charter vehicles and trains to pick up workers from outside the city, and provided free accommodation and reimbursed flight tickets to attract foreign merchants and more business.
Wang's company, which both makes and sells hardware, has a storefront in the Yiwu International Trade City complex. It resumed work as soon as the market complex reopened.
Though not seeing a significant increase of clients in number, Wang said demand in February was scarcely affected. The total order value during that month actually went up slightly compared with the same period last year.
However, the late return of some employees caused delays in production and a 50% drop in output compared to February 2019.
When production gradually resumed as the virus began to become contained in China, it started to ravage other countries. Wang said the mass shutdown worldwide amid the pandemic resulted in a drop in the demand starting in April.
A big order in late April placed from Libya thanks to an acquaintance saved the company from registering a 90% annual drop in revenue, according to Wang. However, he said this was rather lucky and unlikely to become a regular occurrence.
He became quite concerned in the last week of April that the company would have no production tasks to work on by mid-May. "The order shortage has a very big impact on SMEs like us," Wang said. He said he worries about a bad scenario that, without demand to sustain production, he would have lay off some workers at his company.
Expert suggestions
With supply chain and consumption both affected by the pandemic, foreign trade companies, especially SMEs that are generally vulnerable to risks, are facing major difficulties, said Hong Junjie, head of the School of International Trade and Economics at the University of International Business and Economics (UIBE).
However, Hong said the good news is that the domestic market is big in itself and always there for trade companies to explore, suggesting them to include the domestic market into their targets.
Zhang Jianping, a senior researcher at the Chinese Academy of International Trade and Economic Cooperation at China's Ministry of Commerce, shared a similar idea in a separate interview. He said, "The companies should diversify their market options after evaluating market risks according to the outbreak situation and trend."
Both experts also said they believe that the Belt and Road market has much potential to tap into. Hong said, "With a lot of efforts put into its construction, the Belt and Road has created more space for foreign trade."
According to customs data, China's foreign trade with economies related to the Belt and Road Initiative rose 3.2% on a yearly basis to 2.07 trillion yuan (US$291.36 billion) during the first quarter this year.
In terms of new methods of trading, the two experts highlighted the importance of the internet. Zhang said, businesses can promote products and services in a faster way through e-commerce platforms. Hong said he favors the roles of online marketing, e-commerce, and new technologies, and that they "can be applied to address difficulties in finding business channels in new markets and help to establish a direct connection with customers."