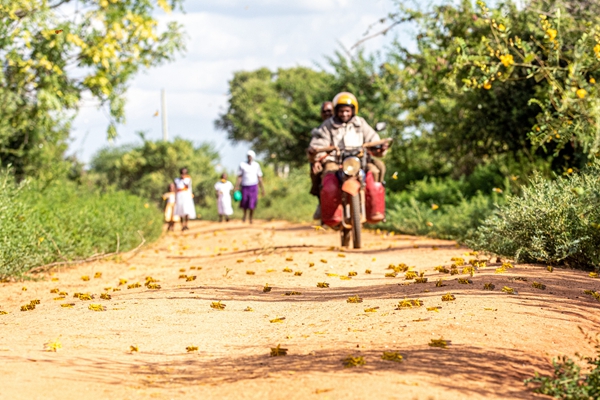 A swarm of desert locusts invades parts of Mwingi Town in Kitui County, Kenya, Feb. 20, 2020. [Photo/Xinhua]
A former leader of the Food and Agriculture Organization of the United Nations (FAO) called for swift action to help Africa prevent a widespread food crisis, as the ongoing COVID-19 pandemic, combined with a locust plague, are undermining food security in many African countries.

He Changchui, former assistant director-general of the FAO, said the international community should pay great attention to the rising food insecurity in Africa and make coordinated efforts to avoid more vulnerabilities.
While speaking at a webinar organized by Development Innovation Insider (Diinsider) on Thursday, He said it is not reasonable to think of food security as a less urgent issue, and postpone the measures to address it until complete control of the coronavirus is achieved.
For some African countries that are facing a high risk of food security, delayed action means heavier prices, He added.
The number of people suffering acute food insecurity (IPC/CH 3 or worse) stood at 135 million in 2019, and more than half of the affected population was in Africa, according to the Global Report on Food Crises produced by the United Nations World Food Programme (WFP) and 15 other humanitarian and development partners.
As the report was released in April, the WFP warned that the COVID-19 pandemic could almost double the number, pushing it to more than a quarter of a billion by the end of 2020.
At a press release published on May 14, the Regional Office for Africa of the World Health Organization (WHO) also expressed concern about the potential impact of COVID-19 on food security in Africa.
COVID-19 is exacerbating food shortages as food imports, transportation and agricultural production have all been hampered by a combination of lockdowns, travel restrictions and physical distancing measures, the statement said.
Matshidiso Moeti, WHO regional director for Africa, said, "COVID-19 is unfolding in Africa against a backdrop of worrying levels of hunger and undernourishment, which could worsen as the virus threatens livelihoods and household economies."
Meanwhile, Qu Dongyu, director-general of the FAO, said at a virtual briefing on May 21 that despite significant gains, efforts to control desert locusts will still take time, noting that upsurges of this magnitude are rarely defeated in a few months.
He, who is also an academician of the International Academy of Sciences for Europe and Asia, said the governments of African countries - especially those that lie south of the Sahara - need to always put food security high on their development agenda.
"I am confident that food security will be guaranteed in Africa if the governments enhance top-level design and take concrete actions for five to 10 years," he said.
He emphasized the importance of support for the U.N. in leading and coordinating the international response to COVID-19 and desert locust invasion. "All countries need to back the work of U.N. specialized agencies, including WHO, FAO and the World Organization for Animal Health, and try to establish an integrated and effective response mechanism."
A news report published on FAO's website on May 18 said the organization is seeking $350 million to scale up hunger-fighting and livelihoods-boosting activities in food crisis contexts in which COVID-19's impact could be devastating.
"It's becoming increasingly clear that the pandemic's impacts go far beyond health," said Ramesh Rajasingham, acting assistant secretary-general for humanitarian affairs and deputy emergency relief coordinator of the UN Office for the Coordination of Humanitarian Affairs. "Acting early can prevent increasing vulnerabilities and also be a much more cost-effective way of addressing this crisis."