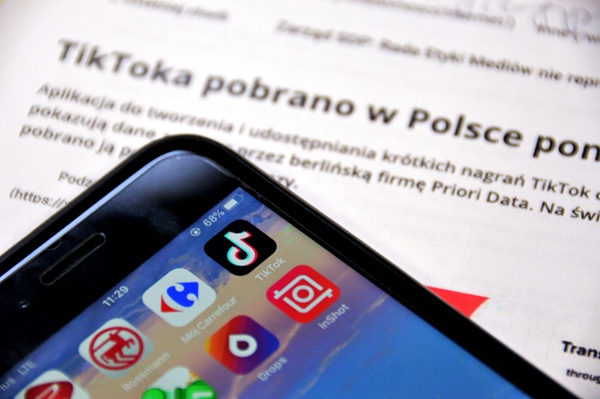 The TikTok mobile app (upper right corner), which is owned by ByteDance Ltd., is seen on a smartphone screen, on Feb. 13, 2019. [Photo/Xinhua]
During the lunar New Year holidays in late January, while most of China was in lockdown due to coronavirus, an important shift was occurring in how we use digital media.

Bytedance's video platform premiered the blockbuster film "Lost in Russia," which was viewed by an estimated 600 million people, nearly twice the population of the U.S., all on their mobile phones.
The level of innovation in communications is turning over at an extremely fast pace, with new entertainment platforms being transformed into consumption giants, dwarfing anything seen before.
Industry forecasts predict that global spending on installation app advertisement spending will reach $118 billion by 2022, with the huge APAC market responsible for fueling half of this, due to the major regional markets of China, Indonesia, Japan and India.
The current COVID-19 pandemic may distort these figures somewhat; however the general upward trend seems inevitable, especially considering the amount of the world's population stuck in lockdown and making best use of their home digital media.
Despite a slowdown in growth due to the pandemic, many Chinese tech companies have continued to grow and offer options for remote media consumption.
Alibaba recently unveiled $28 billion in investment for cloud computing. Tencent, earlier this year, bought control of various different video game streaming platforms such as Huya and Funcom. As hoped for by many other sectors of different industries around the world, technology companies have enjoyed a V shaped recovery curve, while more traditional media companies in areas such as film are lagging behind.
Many companies in Asia, and the Chinese market especially, will have been affected by the pandemic; however, those who increase their activity and especially their advertising during this period while their competitors hibernate may have the potential to increase their market share.
Video platform Bytedance, for example, has recruited a further 40,000 staff in the last few months, putting the company on an equal footing to Alibaba in terms of staffing.
The development of 5G networks across China will further enhance the lucrative streaming potential of these industries, especially in rural areas where markets will increase in depth.
Traditional online streaming companies often find it difficult to push profits past a certain point when their subscribers reach a certain level, and efforts often focus on attempts to find ways of making existing subscribers pay more.
Increasingly, China is being seen as the new Silicon Valley for tech trends in how we consume digital media. Trends which take place there are noticed and are likely to be copied in the markets of Europe, America and elsewhere.
While billions of people around the world at some stage or another have been in lockdown, many of them have found solace in watching their favorite show, or playing games with friends. Staying connected, entertained and moved by online artforms has become more important than ever, something which is reflected by the rapid pace of an industry unrelenting even in the face of a worldwide pandemic.
Jorge Holloway is a global technology and business commentator based in London, initially specializing in start-ups and technology PR.
Opinion articles reflect the views of their authors, not necessarily those of China.org.cn.
If you would like to contribute, please contact us at opinion@china.org.cn.